News from Berlin
German Government Pledges Aid to South Sudan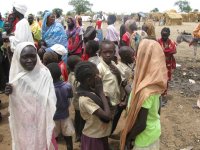 News from Berlin - On May 20th the Humanitarian Aid Conference for South Sudan was held in Oslo (Norway), jointly organized by The Norwegian Ministry of Foreign Affairs and the United Nations Office for the Coordination of Humanitarian Affairs.
During the conference the German government announced that it would make an additional financial contribution of 6 million euros (8.2 million dollars) in order to help South Sudan.Consequently, the total German contribution to South Sudan is reaching an amount of 20 million Euros. In Oslo, the German government also called for other nations to provide financial support to help refugees in Uganda and Ethiopia. However the German Director for Civilian Crisis Prevention and Combating Terrorism Ina Lepel, asserted that each financial contribution must be accompanied by negotiations as well.
Apart from Germany, 39 countries and 50 organizations took part to the conference. All the participants pledged more than 600 million dollars to provide food and health care for South Sudan. However, even if the fund announced at the Oslo conference doubles the 536 million dollars that have already been pledged by the international community, the amount does not reach the 1.8 billion dollars that South Sudan would need according to the United Nations. In order to solve the conflict as soon as possible German Foreign Minister Walter Steinmeier called upon the 'parties in South Sudan's current armed conflict to put down their weapons and protect the assistance from the international community'.
News from Berlin – Berlin Global