News from Berlin
German Foreign Minister Speaks on Ukraine
Steinmeier Offers Advice to Ukrainian Counterpart
Yesterday saw Steinmeier make a phone call to the Ukrainian Foreign Minister as a result of the problems in Kiev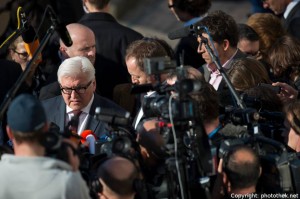 News from Berlin. "Violence is not a solution"
In light of the difficult situation in Ukraine currently, Steinmeier spoke yesterday to his Ukrainian counterpart Kosahara.
Steinmeier stated: "There are appalling images which reached us over night from the Ukrainian capital. The news this morning about deaths is disconcerting.
As such our position is, and remains, that violence is not the solution. We say that to both sides. We also assert emphatically to President Janukowitsch that the approach to answer cannot be a violent one, which harms even more people. The government has the obligation to protect peaceful demonstrators."
Berlin Global
News from Berlin.