France in Germany: Bilateral Cultural Exchanges
67th Berlinale: Bernard Cazeneuve decorated German actors
June 15th, 2017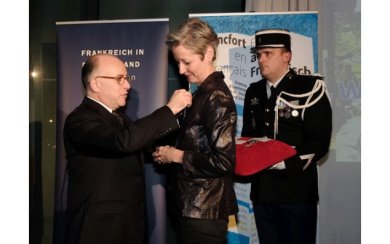 On February 13th, 2017, H. E. Amb. Philippe Etienne received around 400 guests for the traditional French Cinema Evening at the French residence.
As part of the 67th Berlinale, the former French Prime Minister Bernard Cazeneuve awarded the German actors Daniel Brühl, Max Riemelt and the co-director of the Kino Arsenal Berlin cinematic, Birgit Kohler, with the insignia of "Chevalier de l'Ordre des arts et des lettres".
The Berlin International Film Festival, known as the Berlinale, is a huge cultural event which annually takes place in Berlin. It is also one of the most important gatherings for the international film industry. There are actually more than 21 000 professional visitors from 127 countries, including around 3 700 journalists and 334 000 tickets sold per year. Around 400 films from varies categories and from all over the world are projected.
It is also an occasion for the worldwide film community to exchange ideas through panel discussions and workshops about joint projects. This event strengthens international cooperation and promotes interactions between different global actors. At the Berlinale, art and business are closely linked and play a significant role on intercultural relations.
The French Cinema Evening also gave Bernard Cazeneuve the opportunity to kick off the French Literature Year in Germany by revealing some of the names of the authors who will attend the Frankfurt Book Fair in October 2017.
Hélène Meyer, News from Berlin
Berlin Global