Christmas Markets in Berlin
Christmas Markets Around Berlin Open During the Month of December
December 18th, 2015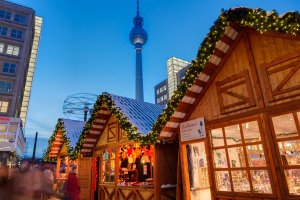 Christmas time – winter wonderland, the most wonderful time of the year, when the entire city comes to life in the beauty of christmas lights. Most of us have probably just put up the Christmas tree and decorated it with our favourite ornaments in anticipation of a magical ending to the year. In Germany it is very common to spend this time of a year at christmas markets. Christmas markets are becoming more and more popular every year, due to their uniqueness and also the magical–festive atmosphere that they create. Berlin offers around 60 christmas markets every year, being referred to as the capital of german christmas markets. The major Christmas markets open in the last week of November and are open until Christmas Eve or even until the beginning of January.
One of the most beautiful christmas markets in Berlin, that is also centrally located (between Französischer Dom and Deutscher Dom), is definitelly Christmas Market at Gendarmenmarkt. It offers a various handmade goods, Christmas food and sweets and of course Glühwein (mulled wine), which you have to taste!
The next market in the heart of Berlin is the Christmas Market at Alexanderplatz, which is a mixture between market, fairground and party. It is also one of the busiest in Berlin, due to the different things it has to offer – from traditional crafts and Christmas products, an ice rink, to daily show programmes and fairground rides for children. The specialty of this market is a Christmas pyramid, decorated with more than 5000 lights, which is also the biggest walk-in Christmas pyramid in Europe. At Potsdamer Platz there is another Christmas market appropriate for children as well, due to a large toboggan run and the open-air ice rink on offer. It is also called Winter World.
For more romantic people, there is Charlottenburg Christmas market, known for its romance. It is located on the grounds of the Schloss Charlottenburg, the old palace. Visitors can enjoy different exhibits within the castle and three restaurant tents with some local dishes from Brandenburg. It also offers a separate market for children, which includes a carousel and a petting zoo.
There is also a Christmas market known as the coolest one, which is called Holy. Shit. Shopping Christmas Market. It is like the night club among all Christmas markets in Berlin. There are more than 150 artists, designers and creative folks gathered every weekend, that are selling different products, with the electronic music in the background that DJs are playing. It is located at the former power station at Köpenicker Straße in Berlin Mitte.
The Christmas markets are appropriate for everyone, due to their various themed atmosphere, you can relax and enjoy the pre-Christmas time with your family and friends, while tasting the Currywurst and Glühwein.
References and Links
News from Berlin
Marina Pejič, Berlin Global