The Prime Minister of Japan paid a visit to Germany
Prime Minister Shinzo Abe Met with German Chancellor Angela Merkel
May 20th, 2016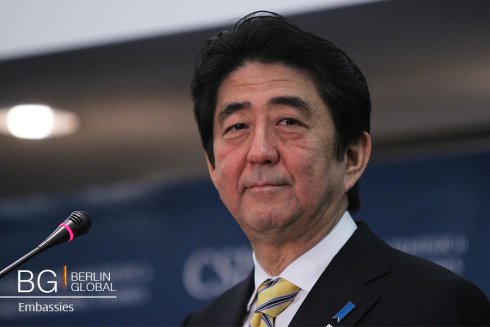 On the May 4th 2016, the Prime Minister of Japan Shinzo Abe had a 50 minute meeting with German Chancellor Angela Merkel in Schloss Meseberg, the Federal Government Guest House. Afterwards, Mr. Abe and Mrs. Merkel had a two-hour lunch. During the meeting, the discussion varied between the bilateral relations between the two countries, G7 summit in Ise-Shima, international issues and the reform of UN security.
During the discussion, it was stated that Japan and Germany share the basic values and both being the leading countries in science and technology, they should also adopt together the new legislations for peace and security.  The Japanese-German Centre in Berlin and the German-Japanese Forum were deemed important institutions for the human and intellectual exchange. It was agreed that both forums were important factors concerning the present and future relations between these two countries as these institutions can be seen as representatives of the cultural diplomacy sharing knowledge between Japan and Germany.
Concerning the international relations and especially the discussion on the G7 Summit, Prime Minister Abe and Chancellor Merkel wanted to establish cooperation between Japan and Germany for peace and security in the world. Prime Minister Abe stated that during the summit in Ise Shima the discussion will be about terrorism, the Middle East as well as Ukraine and Russia. The G7 Summit should be in a leading position against terrorism and violent extremism. It should also be mentioned Chancellor Merkel's positive remark on the recent agreement of Japan and the Republic of Korea with respect to the former Comfort Women; she brought her hopes that this will have a positive impact on the approach towards North Korea.
News from Berlin
Aira Lukka, Berlin Global