News from Berlin
The Poesiefestival Berlin from 5th to 13th June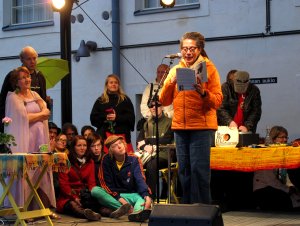 News from Berlin - Every summer Berlin is transformed for ten days into a temple of poetry. 100 to 200 poets and artists from around the world come to the poesiefestival berlin to showcase current trends in contemporary poetry. As well as the traditional book, poetry has long found other ways to find an audience, cheerfully experimenting with theatre, performance, music, dance, film and digital media. The festival gives visitors the opportunity to experience poetry in all its diversity of forms. The poesiefestival berlin demonstrates what power poetry has to inspire. It puts the art of language into the spotlight, pioneering new ways of presenting, publishing and distributing poetry, and its range is international. This is also where artistic directors of poetry festivals around the world come to meet each other.
The festival is regularly host to some 8,000 to 10,000 visitors, with poetry reaching its audience primarily in the many dimensions and facets of reading and performance.
Poets featured in the festival in the past have included Laurie Anderson, Arnaldo Antunes, Marcel Beyer, Lawrence Ferlinghetti, Durs Grünbein, Friederike Mayröcker, Paul Muldoon, Herta Müller, Michael Palmer, PeterLicht, Silvio Rodríguez, Gerhard Rühm, Derek Walcott and Saul Williams.
The poesiefestival berlin has been taking place every year since 2000. Since 2008 its cooperation partner and main hub has been the Academy of the Arts in Berlin. It is supported by the Capital Culture Fund (Hauptstadtkulturfonds). This year, the festival will take place from the 5th to the 13th of June 2014.
News from Berlin - Berlin Global