| | |
| --- | --- |
| | The Embassy of Turkey in Berlin |
The Ambassador
Ahmet Başar Şen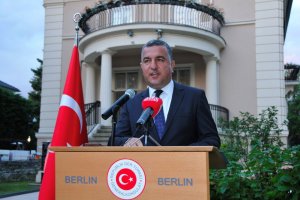 Ambassador Ahmet Başar Şen was born in 1967 in Ezine (Canakkale Province). After attending Kabataş Boys' High School in Istanbul, he began studying International Relations at the Faculty of Political Science at Ankara University, where he graduated in 1988. From 1988 to 1990, Ambassador Şen received a master's degree in the EU legal system from the Faculty of Law of the University of Istanbul. From 1990 to 1996 he studied for a master's degree at the University of Stuttgart, specializing in German political science and studies. In 1996, Ambassador Şen joined the Turkiye diplomatic service and in the following years held various positions in the Ministry of Foreign Affairs of the Republic of Türkiye, in particular in the Department of Multilateral Economic Affairs, in the Department of Human Resources and the Department of Bilateral Economic Affairs.
From 2001 to 2003 he held various diplomatic positions at the Berlin Embassy, from 2003 to 2005 at the Embassy of Minsk/Belarus and from 2006 to 2010 at the Consulate General of New York/USA. From 2010 to 2012 he was Head of the Middle East Department at the Ministry of Foreign Affairs. From 2012 to 2016 he was Consul General of Türkiye in Berlin. In 2016 he was appointed Ambassador of Türkiye in Tashkent/Uzbekistan. From 2020 to 2021 he was Head of Protocol at the State Department. By presidential decision of 25 June 2021, Ambassador Ahmet Başar Şen was appointed Ambassador of the Republic of Türkiye to the Federal Republic of Germany and took office on 1 August 2021.
Ambassador Şen speaks German and English. He is married and has two children.
History
Germany and Turkey enjoy an exceptionally close and wide-ranging relationship, which has stretched back over centuries. The nearly three million people of Turkish origin living in Germany act as an important factor in bilateral relations. Another factor is Turkey's attractiveness as a travel and tourist destination (more than five million Germans visited the country in 2013). Both factors strongly influence the way in which the two nations see each other.
Germany has traditionally been held in high regard by Turkey. Relations between the two countries are friendly, wide-ranging and robust, which means that Turkey has very high expectations of Germany and German policy. Talks and consultations are held regularly at all levels, on a wide range of political and domestic policies, providing a sound basis for trustful and constructive cooperation even on controversial issues.
On the 12th and 13th of May 2013, a Strategic Dialogue was launched, which is designed to consolidate the existing intensive contacts between the two countries and place them on a new footing. The German-Turkish Strategic Dialogue includes annual meetings between the two foreign ministers and the setting up of a number of working groups at the level of senior government officials to address issues such as bilateral relations, security policy, combating terrorism, regional issues and Europe. At the most recent meeting between Turkish Prime Minister Davutoǧlu and Federal Chancellor Merkel in Berlin in January 2015, it was agreed to hold biennial intergovernmental consultations for the first time in 2016.
Turkey has been a candidate for EU membership since 1999. Accession negotiations started in 2005. In 1987, Turkey applied to join what was then the European Economic Community, and in 1997 it was declared eligible to join the EU. Turkey's involvement with European integration dates back to 1959 and includes the Ankara Association Agreement (1963) for the progressive establishment of a Customs Union (ultimately set up in 1995). A Joint EU-Turkey Action Plan was agreed in October and was activated at the EU-Turkey Summit on 29th of November 2015. The Action Plan aims at bringing order in the migratory flows and stemming the influx of irregular migration. On the 24th of November 2015 the Commission adopted a Commission Decision establishing a Turkey Refugee Facility which will pool 3 billion EUR additional resources.