Korean Robes—Tradition Meets Fashion
Korean Culture Center exhibits 10 "Hanbok" designs as cultural exchange in Berlin
August 18th, 2016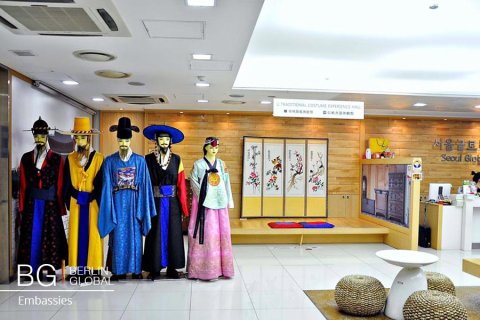 High-quality fabrics, simple but elegant cuts and pure colors, ten traditional Korean robes are hanging in the Korean Cultural Center in Berlin for the public to visit. Bringing tradition into fashion, Korean designer Saena Chun provides people in Germany a way to understand the art of Korean Traditional Robes. The Korean Cultural Center, the cultural department of Korean Embassy in Germany, aims to present the exhibition to bring foreigners closer to Korean culture.
The exhibition of "Robes - Variation VII - ÉTÉ 2016" opens from June 30th to August 20th. This is the seventh collection of Saena's work, displaying ten different styles of dress. Her designs came out of the passion for Korean Traditional Robes called "Hanbok".
Making Hanboks is not easy—the cut, the materials and the way they are sewn, everything has to be carefully measured and designed. The display focuses on showing the art of these three elements. A video project is presented to illustrate the producing process, with artists performing dressed in the robes. The project is carried out by the Honey-Suckle Company Germany based in Berlin.
German photographer Torben Geeck's photography works are also displayed as part of the exhibition. He photographed Saena's ten robes. In the photos, the robes are floating in the air, telling different kinds of stories. "Her collection is a really great combination of traditional Korean fashion and contemporary, modern design," said Torben after photographing.
Traditional Korean robes, modern design, German photography and German artist performance; this exhibition is not only a design show but also a blend of different cultures. Korean Culture Center brings the art of Korean traditional culture into the modern German society, enhancing the cultural exchange between two countries.
The Korean Culture Center under the Korean Embassy, located in Leipziger Platz 3 in Berlin hosts cultural events ranging from concerts, film screenings and festivals to workshops and language courses regularly, aiming to promote cultural exchange and serve as a communication bridge between South Korea and Germany.
Reference:
News from Berlin