News from Berlin
ZEBRA Poetry Film Festival with Focus on Norway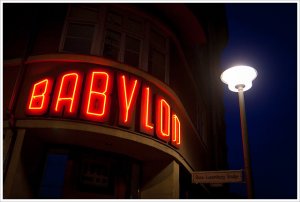 News from Berlin – The 7th ZEBRA Poetry Film Festival will be presented at Kino Babylon in Berlin-Mitte from Thursday 16th – Sunday 19th October 2014. 770 films have been submitted from 70 different countries and all films are based on poems. This year's ZEBRA Poetry Film Festival will have a focus on Norway.
The ZEBRA Poetry Film Festival is the largest international platform for short films based on poems (poetry films). The festival was founded in 2002 and every two years it gives poets and filmmakers from around the world an opportunity to exchange ideas and concepts, as well as presenting their own perspectives through poetry films. ZEBRA features a competition, film showings, poetry readings, exhibitions, workshops and special programs for children.
For the 7th ZEBRA, Norwegian animator Kristian Pedersen will hold an exciting exhibition and discussion for festivalgoers to engage with. Kristian released her first poetry film in 2007 and this year she will exhibit six poetry films from the series: Gasspedal Animert. This series was a collaboration with author Annelie Axén and together they will hold a workshop to talk about their work and philosophy.
Additionally, six Norwegian authors (Simen Hagerup, Arve Kleiva, Odveig Klyve, Ottar Ormstadt, Mansur Rajih and Mathias R. Samuelsen) will be presenting their work at the festival and giving an insight into the extensiveness of the Norwegian poetic scene. The authors come from a variety of fields – translators, playwrights, visual artists or political actors – and thus will show the diversity of Norwegian poetry by reading experimental poetry and poetry in exile. These six authors will focus on exposing the importance of Norwegian literature.
Furthermore, there will be a special panel discussion debating the topic: Poetry Films in the Digital World. This discussion will look into the various media platforms used by poets internationally and the opportunities to expand on this.
So, why is Norway the focus of this year's festival? Norway has a rich contemporary poetry and creative publishing scene that has allowed filmmakers to delve into a number of intriguing and inspiring topics and issues. Since 2012, the Oslo Poetry Festival has created its own poetry film festival: Oslo Poesfilm, held annually. The focus on Norway presents the breadth of Norwegian poetry film and welcomes filmmakers and authors to engage with the infamous literary scene in Berlin.
ZEBRA Poetry Film Festival is a unique and exciting concept for those who would like to combine their love of poetry and film. Be sure to check out the schedule and get involved with this four-day event.
News from Berlin – Berlin Global