Yunus Emre Enstitüsü
Migration Story from Turkey to Germany through 60 years of music
September 16th, 2022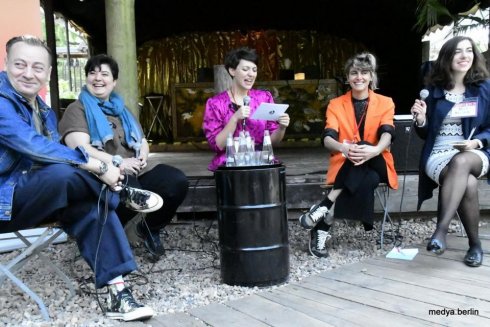 Merhaba is Turkish for "Hello". If you'd like to learn more, then Yunus Emre Enstitüsü is the place to turn.
The Turkish organisation was founded in 2007 with headquarters in Ankara. In 53 culture centres around the world, it carries out projects and events designed to teach and promote the Turkish language, culture, art, and history, not unlike the German Goethe-Institut.
Cultural institute in the heart of Berlin
Since January 2015, Yunus Emre Enstitüsü has been offering extensive activities from its cultural centre in the heart of Berlin. The premises are modern and include five classrooms, a small cinema, separate workstations, and a special lending library, offering numerous children's books in Turkish, among others. The programme includes courses in the Turkish language, readings, lectures, concerts, exhibitions, and workshops.
60 years of Berlin Music Event Breakfast Alla Turca
On Sunday the 5th of September, the Alla Turca breakfast took place in Berlin's Festsaal Kreuzberg, an event as part of istanbulberlin's #60yearsmusic project, supported by Berlin's Yunus Emre Institute. The outdoor event, which was the first physical space for encounters of istanbulberlin, attracted numerous visitors and representatives from both Turkish and German media. Also present was the Turkish Consul General Rıfkı Olgun Yücekök. The program, which included performances by DJ Funshine and Başak Yavuz, ended with the guests dancing and singing to the DJ performance of Kabus Kerim.
DJ Funshine opened the event at 10am with a set that was as energising as a cup of coffee. The guests treated themselves to an opulent Turkish breakfast.
The programme, moderated by Ayşen Meliha Kahraman, was followed by the opening speech by Consul General Rıfkı Olgun Yücekök, in which he shared his thoughts on the 60th anniversary of the recruitment agreement and Turkish music: "On October 30, 1961, a recruitment agreement was signed with Germany. As part of this agreement, so many of our people, men and women, sometimes with their families, came to Germany up until 1974. Upon arrival they were referred to as 'guest workers'. But now we are an important part of the German community, with a population of almost three million. We celebrate and celebrate together the 60th year of this event. Yes, we have a lot to celebrate, but we also have a lot to commemorate and remember. Because we unfortunately experienced Solingen and Hanau here.
The next item on the programme was the speech by Koray Yeğnidemir, the representative of the Yunus Emre Institute in Berlin. Welcoming the guests, Yeğnidemir expressed her joy at being part of such an important project and shared that despite the pandemic, she continues to support projects celebrating the 60th year of the Agreement in both digital and physical environments.
While those present tasted their tea from delicate glasses, two guests took the microphone and told their stories: The versatile artist Tamer Yiğit explained how he came into contact with art and music in Kreuzberg and how he became an artist. Kadir Albay, the leading piano repairer in Germany, shared how he restored Atatürk's piano.
The program continued with the lecture "Between 'Gastarbeiter Groove' and New Wave Sound". Moderated by Sedef İlgiç, Kabus Kerim and Başak Yavuz spoke about bridging the gap between the music of guest workers in Germany and the new wave of immigrant musicians.
The following words from Kabus Kerim when he spoke about 'Gastarbeiter Groove' triggered emotional moments: "My mother had come to Germany in '72, she had heart surgery in 2009, I still get emotional when I remember how she was in the hospital. Many of us have such family histories. She came here as a healthy young woman and worked her fingers off... At that time, I couldn't do anything for my mother's health, I was so desperate. Since it was also the music that kept us on the right path in our youth, I thought of collecting the music from my mother's youth and making a remix of it. I named it 'Funk for My Mom' and gave it to her. That gave the 'Gastarbeiter Groove'.
Başak Yavuz spoke as a musician who recently moved to Berlin: "I lived in Harlem for a few years during my New York adventure. So, I had the opportunity to observe the pain that produced this music. When I walk the streets of Kreuzberg today, I feel a bit like I'm in Harlem. I reflect on the life experiences that created this culture. But this time I'm not an outside observer like in Harlem. Coming from that culture myself, I am closer to the music I perform.
So now I want to salute all the Turkish immigrants here who created this culture, who stood up, who raised their voices."
Kabu's Kerim closed the night with his DJ set, a mix of Anatolian pop and Turkish psychedelic music with a dash of 'Gurbet' sound. The event ended with guests dancing and singing along to Cartel's song "Cartel."
#60yearsmusic
• On the occasion of the 60th anniversary of the recruitment agreement, the #60yearsmusic project will tell the migration story of Turks to Germany over the past 60 years through music.
• The project intends to deal with this history of migration in a variety of ways and create space for intercultural dialogue.
• Seven articles, seven written interviews and short, music-related migration narratives will be published as part of the project. In addition, two events – one in Berlin and one in Istanbul – will be held. These events are also published as an online live stream. In addition, audio-visual content is generated in connection with the events.
• A podcast series and a project book are planned for the second phase of the project.
• All content will be made available in English and Turkish, some content also in German, on istanbulberlin.com under the #60yearsmusic section.
• With contributions from musicologists, musicians and music critics, the project will cover different musical genres from folk music to hip-hop. Musical treasures are conveyed to the younger generation through lively content and modern forms.
References
News from Berlin