News from Berlin
Who Is This ? Germany Gives 86.5 Million Euros for Cameroon's Decentralization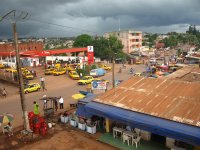 News from Berlin - The German government just announced that it would support the decentralization, local development and sustainable management of natural resources in Cameroon by allocating 86.5 million Euros to its government between 2014 and 2016.
The German ambassador to Cameroon, Dr. Klaus-Ludwig Keferstein, and the Cameroonian Minister of Economy, Emanuel Nganou Djoumessi, signed the funding deal on Sunday May 25th. In accordance with the agreement, 38.5 million Euros will be donated to support technical cooperation in Cameroon, especially in modernizing the management of public finances, facilitating the access to reproductive health and the development of the rural areas. The other 48 million Euros will be distributed as a loan to facilitate financial cooperation between the Cameroonian government and private companies, to support forest and environmental protection programs and to fight maternal mortality.
Cameroonian Minister of Economy Emanuel Nganou Djoumessi greeted the financial agreements by qualifying it as "a testimony to Germany's determination to continue to support Cameroon's development efforts and which translates into concrete reality the solidity of German-Cameroonian cooperation". For his part German ambassador Dr. Klaus-Ludwig Keferstein asserted that Germany had a long tradition of cooperation with Cameroon, and was willing to pursue its contribution to its development and modernization to make Cameroon "an emerging country, democratic and united in its diversity by 2035".
News from Berlin – Berlin Global