WANTED: FILM-ENTHUSIASTS FROM INDIAN COMMUNITY
The Embassy of India in Berlin is promoting an international film-making competition
October 13th, 2022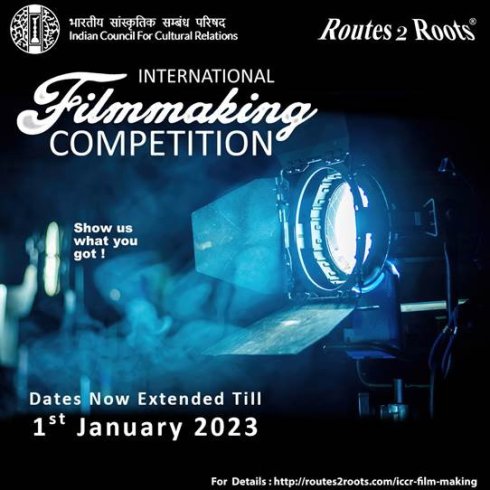 The unique film-making competition for Indian diaspora and foreign alumni of India is open for registration until 1st of January 2023, allowing people with a relation to India to express their personal emotions and experiences through the medium of film.
In a cooperation between the Indian Council for Cultural Relations (ICCR) and the NGO Routes 2 Roots, this cultural competition is calling potential participants to share their contributions. Promoted by the Indian Embassy in Berlin, the ICCR is an international organisation formed by the Indian Ministry for External Affairs. The purpose of the organisation is to promote Indian culture abroad through arts and education. In this sense, the film-making competition is one fantastic example of how Indian culture is bringing people together worldwide.
In fact, Indian Cultural Centres play a great role in this work. In close cooperation with the ICCR, Indian cultural festivals, seminars, and conferences have been organised. This is a great example of Indian cultural diplomacy abroad. Moreover, the point is to also engage foreigners with an interest in Indian culture. In this sense, the ICCR also gives out scholarships to foreigners wishing to study in India. Now, these people can act as cultural ambassadors for India. Therefore, they are also invited to take part in the film-making competition, alongside native Indians.
Routes 2 Roots is the second organisation behind this effort. As a non-profit NGO, they promote art, culture, and heritage in Indian contexts across the globe. Their particular goal is to promote peace and sustainable growth. Accordingly, they have organised numerous of cultural events and festivals with the aim of strengthening cultural exchange on all levels. Brave efforts have also been made to bring these events into conflict-ridden regions to promote peace and friendships. Within Routes 2 Roots' projects, film plays an important role.
By promoting this extraordinary film-making competition, the Indian Embassy in Berlin is calling all Indians and India-enthusiasts in Germany to make a contribution. There are six themes, three for each category of applicants. Two examples are "My Roots, My Ancestral" and "Indian Culture: Imprints on My Mind". In this sense, we see that heritage plays an important role, as well as the impression the Asian country has left on foreign residents and students alike. By making a contribution, one is therefore also invited to reflect over culture in a way one may not have done before. In addition to gaining introspection, as well making a creative contribution, one can also win up to 500 American dollars.
References
News from Berlin