News from Berlin
Visit 12th Open Air Gallery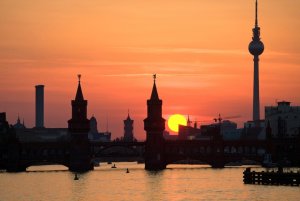 News from Berlin - Two times per year Oberbaumbrucke changes into truly art gallery. Over hundred artists shows effects of their artistic work. It is opportunity to see many paintings, photographs, graphics and sculptures on the bridge between Kreuzberg and Friedrichshain. This year, first day of event took place 1st of June and it was great success. The Gallery had more than 39,500 visitors . The second chance to see it is 6th of July.

What is the aim of this unusual gallery? To stimulate dialog between beholders and artists. It is inspiring exchange between them. Visitors could even paint draw or doodle with artists. Meetings and conversations to discuss views on art, in this specific place creates special atmosphere.
Since 2002 Open Air Gallery became an important event. It is organised by Stadtteilausschuss Kreuzberg e.V and this year it is 12th edition. Participation is free. The Oberbaumbrücke is closed for traffic when the Open Air Gallery takes place.
When: 1st of June and 6th of July 2014.
Time: 10 a.m. to 9 p.m.
News from Berlin – Berlin Global