News from Berlin
Vietnam's Prime Minister Discuss about Free Trade Agreement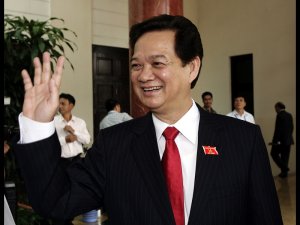 News from Berlin – Vietnam's Prime Minister Nguyen Tan Dung arrived in Germany on October 14th after Chancellor Angela Merkel extended an invitation. Tan Dung was welcomed by leaders of the Baden Wuerttemberg state, the Vietnamese ambassador in Germany Nguyen Thi Hoang Anh and representatives of the Vietnamese community.
This visit marks the opening of a new page in the strategic partnership between Vietnam and Germany. Germany has been one of the most important partners for Vietnam in Europe over the years. The Prime Minister discussed aims to push the EU-Vietnam free trade deal forward, as the European Union is Vietnam's second largest trading partner. Evidenced by the increase in bilateral commerce from around five billion euros to more than 26 billion euros over the past decade.
Prime Minister Tan Dung now wants to further expand relations and promote a free trade agreement that will reduce tariffs and other trade barriers, in order to provide legal certainty, protect investments and intellectual property. This should spur economic growth and create jobs for both parties involved, but there are some obstacles - mainly legal issues, as the EU has higher consumer and environmental protection standards than Vietnam. Those regulations mandate companies to meet certain requirements of the EU and demonstrate the sustainability of their products. Based on the recently published KAS study, Hanoi has to reform its legal system before the free trade deal can become fully effective.
Preparations for the 40th anniversary of bilateral diplomatic ties next year were also discussed.
News from Berlin – Berlin Global