Urcunina (Galeras)
Colombian Embassy in Germany Promotes the Artwork of the Colombian Artist Guido Feuillet
June 21st, 2017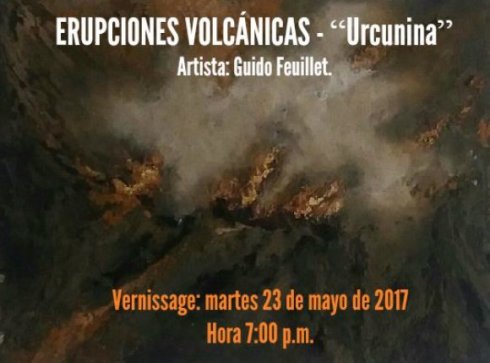 On May 23rd, well-known Colombian artist Guido Feuillet held an art exhibition at the Colombian Consulate in Berlin, Germany. The project is titled "Urcunina," which is the name of an active volcano near the Colombian village where Feuillet grew up as a child and which served as inspiration for his artwork.
Attendees to the exhibition included H. E. Amb. Maria Lorena Guterrez, ambassador of Colombia to Germany; and Martha Patricia Medina, consulate of Colombia to Germany.
The volcano is located in the Colombian department of Nariño, near the departmental capital of Pasto. Formerly known as Urcunina, the volcano's name was changed to Galeras soon after the Spanish colonization and hasn't been changed back. Moreover, it has erupted frequently since the Spanish conquest, with its first historical eruption being recorded on December 7, 1580. More recently, the volcano erupted on January 3, 2010, forcing the evacuation of 8,000 people.
When asked about the reason behind his inspiration on the volcano, Feuillet replied: "I was born in that area, and even as a child playing in that area I loved the natural beauty and the landscape of Urcunina. In fact, all the residents of that area love and embrace the volcano's astonishing beauty despite its constant eruptions".
Furthermore, Feuillet stated that "When I was aged 8, at the time at which the volcano was erupting, the government warned us and told us to leave, but some of the families refused to evacuate due to their attachment to the Urcunina".
Guido Feuillet, who is an innovative and creative artist, uses earth minerals and cements to create his extraordinary art. Interestingly, through his art he also shows the influence and effect of colonialism on the Colombian culture, as shown by the volcano's name change after the conquest of the Spanish. By using his own experiences and artistic concepts, he has revived the volcano's ancient native indigenous name from the pre-colonization era (Urcunina).
News from Berlin
Sayed Mostafa Noori, Berlin Global