Ukrainian Crisis and its Consequences for Europe
A series of talks focused on finding a solution to the Ukrainian crisis
November 28th, 2014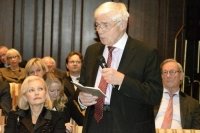 The "Salon InMitte" is a private and cross-community Initiative of Berlin Christians, which has been organizing Christian based discussions for the last 10 years. The new series of talks were organized at Berlin hotel "Adlon" and were focused on the "Ukrainian Crisis and its consequences for Europe".
Speakers for this event included, Professor Mr. Adam Daniel Rotfeld, Mr. Norbert Röttgen, chairman of the foreign affairs committee of Bundestag, and editor chief "Strategic Europe" Mrs. Judy Dempsey. The guests discussed possible solutions for the Ukrainian Conflict and the changes in Europe-Russia relations. Professor Mr. Adam Daniel Rotfeld placed attention on the European and international dimension of the conflict, stating that the European Union and OSCE will play a key role in the solution. Professor Rotfeld emphasized a German effort to help with a solution to the crisis. Chairman Röttgen mentioned that the most important challenge for the European Union is to come to a common stance on this issue.
"Salon InMitte" is a cyclic forum for debates on political, economic and socio- cultural issues. Commonly, the guests for these talks are politicians, diplomats, journalists, think tanks representatives and representatives of the scientific and cultural sphere. The past guests of these debates have been, for example, President of the "Narodowy Bank Polski" (the National bank of Poland) Marek Belka, the President Aleksander Kwaśniewski, Lech Wałęsa and Commissary for the UE Janusz Lewandowski.
References and Links
News from Berlin
Berlin Global