Uganda and Japan´s Relationship is Strengthened
The Ambassador of Japan to the Republic of Uganda met with the Permanent Secretary of the Ministry of Foreign Affairs of Uganda
February 11th, 2019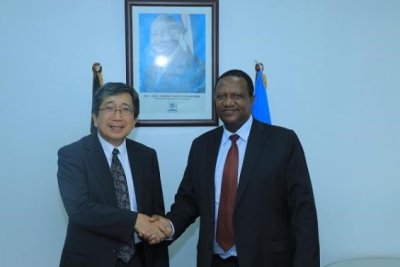 H.E Kazuaki Kameda, the Ambassador of Japan to the Republic of Uganda paid a courtesy call on Patrick Mugoya the Permanent Secretary of the Ministry of Foreign Affairs on 14th January 2019 at the Ministry Headquarters. They agreed on further strengthening the bilateral relations between the two countries.
They talked mainly about Japan´s cooperation with the Government of Uganda, in key priority areas of Infrastructure, Health, Agriculture, and Education & Sports. The remark was taken on the account of the recent commissioning of the Source of the Nile Bridge in Jinja which was co-financed by Japan.
Japan plays quite an important role in the Economic Infrastructure Development of Uganda. For that reason the partnership promotes harmonized and effective cooperation between both Uganda and Japan. Both Kameda and Mugoya agreed on adding up to the friendly relations amongst the countries.
References:
News from Berlin