U.S Diplomatic Missions Overseas Nominate one Woman of Courage from Their Respective Host Countries at the Women of Courage Awards
Since the inception of this award in March 2007, the State Department has recognized more than 120 women from more than 65 different coun-tries
March 11th, 2019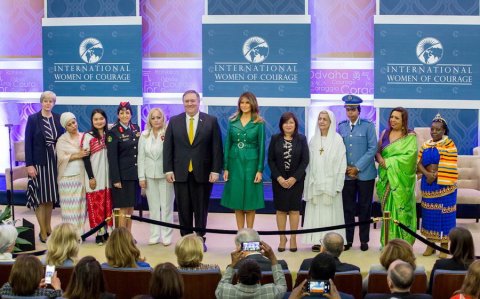 On Thursday, March 7, Secretary of State Pompeo hosted the Annual International Wom-en of Courage (IWOC) Awards at the U.S. Department of State to honor 10 extraordinary women from around the world. First Lady of the United States Melania Trump declared "These women, are role models for the next generation. Through their work, they em-power women everywhere."
The awards went to 10 women who displayed exceptional courage in advocating for human rights, peace, justice, women's empowerment and social progress at great personal risk. These 10 awardees are: Razia Sultana of Bangladesh, Naw K'nyaw Paw of Burma, Moumina Houssein Darar of Djibouti, Mama Maggie of Egypt, Colonel Khalida Khalaf Hanna al-Twal of Jordan, Sister Orla Treacy of Ireland, Olivera Lakić of Montenegro, Flor de María Vega Zapata of Peru, Marini de Livera of Sri Lanka, Anna Aloys Henga of Tanzania.
Moreover, the event honored Iranian women who courageously stood up to a corrupt regime during the past year, despite harassment, arrest or even torture.
Following the official award ceremony and meetings with government officials, NGOs, media, and others in Washington, DC, IWOC honorees will travel to individual U.S. cities on the International Visitor Leadership Program (IVLP). American organizations and businesses will host IWOC awardees and collaborate with them on strategies and ideas to empower women both in the United States and abroad.
References:
News from Berlin