Tunisian President Meets Ghana's Foreign Minister
Enhancing bilateral cooperation between Tunisia and Ghana
February 28th, 2019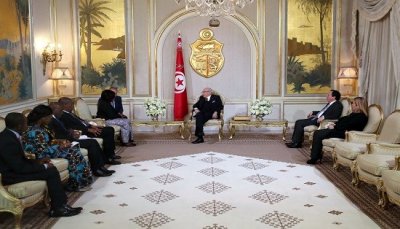 On 19th February 2019, as part of her two-day visit to the Republic of Tunisia, Ghana's Minister for Foreign Affairs and Regional Integration Hon. Shirley Ayorkor Botchwey met H.E. Beji Ciad Essebsi, President of Tunisia.
The meeting highlighted the longstanding relations between the two countries and their commitment to enhance relations as evidenced by the recent delegation to Ghana and the signing of three agreements for cooperation. The President further reiterated Tunisia's eagerness to intensify multilateral visits and consultations regarding the future of the two countries and the African continent.
Hon. Shirley Ayorkor Botchwey emphasized the significance of her visit to the Northern African country which 'undoubtedly contributes to the establishment of a unique and distinct future relationship'. She also stressed the importance of further engagement in trade and investment support, while exploring further areas of potential partnership.
References:
News from Berlin