Torii Rei's exhibition: Ise
An Exhibition to Mark the G7 Summit
May 30th, 2016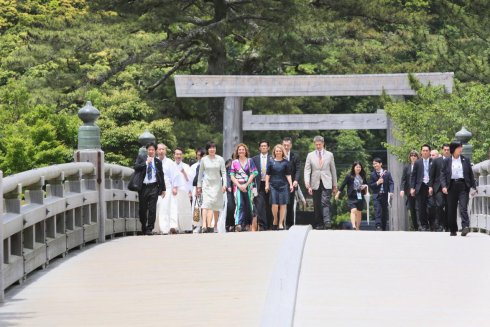 The Museum für Asiatische Kunst cooperated with the Japanese Embassy in Berlin and the Japanisch-Deutsches Zentrum Berlin in the opening of an exhibition for the G7 summit meeting in Ise, Japan. The summit will be held on the 26th and the 27th of May 2016. The exhibition will feature the work of painter Torii Rei, who for the first time will show fifteen paintings which were specifically for this event in Berlin.​
His work focuses on the shrine complex of Ise, which is connected to Japan's Imperial institution. The exhibition will open on May 26th 2016 and run until January 1st 2017.
The Ise Shrine is one of the most significant Shinto sites in Japan. Shinto is a Japanese religious practice associated with the numinous beings known in Japanese as Kami. Kami are characteristically manifested in rocks, trees and waterfalls. The shrines dedicated to their veneration are always found in a natural setting, on which the Shinto faith places high value. In Torii Rei's paintings the cycle expresses the experience of nature and the exhibition invites visitors to examine the ideal of self-sufficiency, and of a sustainable harmony between humanity and nature, which the artist sees manifested through the Shinto faith.
As Japan is the president of the G7 summit, the exhibition is an example of how it is possible to bring together individuals from different backgrounds, be it political or otherwise, and involve them in various goings on of policy making and structures. Throughout this exhibition the Japanese embassy intends to combine the two worlds of art and the political G7 summit, thus creating an open dialogue where people can discuss global concerns. The G7 summit aims to create a discussion amongst the current world leaders on foreign policy issues including; counter-terrorism, the Middle East, the Ukraine and North Korea.
Reference:
News from Berlin
Aira Lukka, Berlin Global