| | |
| --- | --- |
| | The Embassy of Togo |
The Ambassador
Komi Bayédzè Dagoh
Amb. Komi Bayédzè DAGOH was appointed as ambassador of Togo to the Federal Republic of Germany in 2017. In 1977 he graduated from the International Institute of Public Administration (IIAP) in Paris and obtained a Degree in Diplomacy (DESS) at the Faculty of Law of Sceaux (University of Paris Sud). In 1982 he completed a Master of Law at the University of Benin.Mr. Komi Bayédzè DAGOH started his career in the field of Office Taking at the Ministry of Foreign Affairs and Cooperation. From 1983 to1984 he was employed as Desk Officer at the International Organizations Department and at the Treaties and Legal Affairs Department (1984-1988).
After, he worked as Secretary for the Embassy of Togo to the Kingdom of Belgium, the Grand Duchy of Luxembourg and to the European Economic Community (as1998-1990). From 1992 to 1993 he served as Head of Division of Political Affairs and from 1993 to 1997 as Head of Division of International Organizations. Afterwards he became Secretary General of the Ministry of Foreign Affairs and Cooperation and from 2000 to 2009 he was employed as Technical Advisor of the Minister of Foreign Affairs and Cooperation. He also served as Consultant in citizenship, good governance and peace edification (2009-2014) and was Chairman of the National Organizing Committee of the Extraordinary Summit of the African Union on Maritime Safety and Security, held in Lomé on 15th October 2016. From 2014-2017 he was Technical Advisor of the Minister of Foreign Affairs, Cooperation and African Integration. Amb. Komi Bayédzè speaks French and English.
History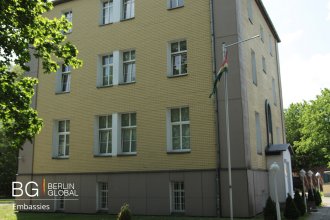 Germany enjoys an excellent reputation in Togo and is considered to be a privileged partner. The German colonial period (1884-1914) has remained to be mostly positive in the minds of the general public in Togo.
Relations cooled between the two in the 1990s on account of discrepancies in Tongolese policies regarding human rights and democracy. However they have improved again in recent years in political and economic fields. The Federal Government supports the democratization, reconciliation and reform process in Togo and Togo hopes for closer cooperation with Germany in all areas in the future.