| | |
| --- | --- |
| | The Embassy of Russia in Berlin |
Contact
Address: Unter den Linden 63-65, 10117 Berlin, Germany
Tel: +49 30 229 11 29
Email: info@russian-botany.de
The Ambassador
Amb. Sergei Nechaev
Sergei Nechaev was born the 2nd of June 1953 and he has served the Federation of Russia as Ambassador to Germany since 2018.
Sergei graduated from the Moscow State University in 1974 and Graduated from the Diplomatic Academy of the Ministry of Foreign Affairs of the USSR in 1988.
In 1977 entered the diplomatic service and between 1992-1996 & 1999-2001 was the ambassador of the Russian Federation in Germany.

History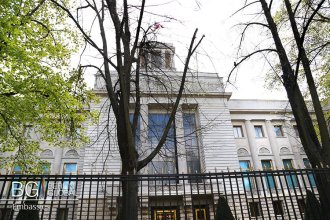 History of the Russian diplomatic mission in Berlin dates back to the early eighteenth century.
During World War I, for four years, the building of the Russian embassy was "orphaned". The first Soviet representative Adolph Joffe arrived in Berlin in 1918. In the following years, the representation of Russia became known as the Embassy of the Soviet Union.
As a result of Allied bombing the embassy was destroyed, and its charred ruins remained until the end of the war. After the war, the Soviet government decided to restore the building and its official opening took place on the national holiday of the Soviet Union, the 7th of November in 1951.
Germany is one of the most important partners of Russia in Europe. In recent years, as a result of the global economic crisis Russia and Germany have sought to find alternative ways to continue to develop the relationship, they have worked to renew the architecture of pan-European security, strengthen global and regional stability and unleashed the potential of cooperation between Russia and the EU.