The Philippine Embassy Meets Contemporary Art
The opening of Sam Penaso's art exhibition in Berlin
October 29th, 2019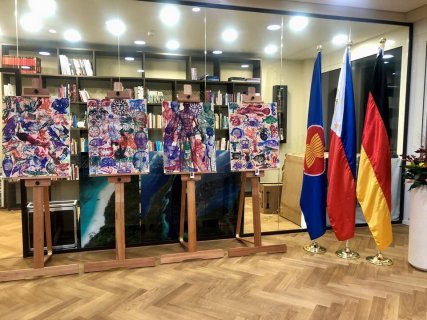 The Philippine Embassy organized and hosted the exhibition of the Filipino artist Sam Penaso. The formal opening of the contemporary art exhibition was held on October 28th at the Philippine Embassy in Berlin, and ran until October 31st.
On October 28th, the Philippine Embassy hosted the first solo art exhibition in Berlin of the Filipino artist Sam Penaso,in collaboration with Kunst Gallery. The multi-awarded artist has a large collection of paintings, sculptures hybrid works and performance art. In this exhibition, Mr Penaso presented more than 20 paintings of his collection of contemporary art paintings with colorful geometric patterns, natural scenes, fictional characters, and human figures painted on canvas.
H. E. Amb. Theresa Dizon-de Vega in her speech extolled the artist for his talented work, and for the prizes that he already won. Aditionally, the exhibit's curator, and Kunst Gallery Managing Director Virgilio Cuizon spoke about Philippine culture and the importance of cultural exchange in the world. In his speech the Filipino artist Mr Penaso expressed his gratitude for the people's attendance and the hosting of Philippine Embassy. The event was attended not only by people and diplomats from the Philippine Embassy and the Filipino community in Berlin, but also by members of the German community. The opening event closed with traditional Filipino snacks and cocktails, made by the popular Filipino rum "Don Papa".
Mr Penaso's innate passion for art and determination are among the qualities that supported him during all his brilliant career. Indeed, this young Filippino artist comes from a humble family, and  paid for his artistic education by winning scholarships and doing student jobs as artist. He successfully concluded his Bachelor of Fine Arts Degree Major in Advertising at Technological University of the Philippines. After his studies, he immediately started to work as an artist and present his work all around the world. He has held 27 solo exhibitions in Japan, Thailand, Austria, Germany, Singapore, New York and Abu Dhabi. Furthermore, he represented the Philippines in many international prestigious art competitions: the 8th Beijing International Art Biennale-China 2019, Exhibition Exchange-Hanoi Vietnam 2018, Nippon International Performance Art Festival in 2005 and 2011, Asian International Art Exhibition in Bandung, Indonesia, and the Art Triangle, Malaysia and Young Art Philippines, in Luxemburg with his "Stripewalker" performance. Mr. Penaso has also won important national and international awards and grants such as Don Papa Rum residency in London in 2019 and an Asian Cultural Council (ACC) International Studio and Curatorial Program in New York in 2013. In addition, the Philippine Art Awards granted him an award of merit in 2018. Now, Mr. Penaso will exhibit his paintings from the 28th to 31st of October to the Philippines Embassy in Berlin for the first time, and is already planning to organize other exhibits in Berlin, London and other European cities. According to the Kunst Gallery Managing Director Virgilio Cuizon, over the last twenty years, many new art galleries have opened all around the Philippines. The successful career of Mr Penaso shows how the Philippines is not only a country where artists are supported, and different artistic forms are appreciated, but also how this country wants to play an increasingly relevant role on the artistic international stage.
References:
News from Berlin
News from Berlin