News from Berlin
The Norway of Jazz 2014 - Munich Celebrates "200 Years of Norway" with Jazz and Classical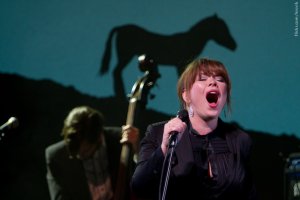 News from Berlin - This year the 200th anniversary of the Norwegian Constitution is celebrated with several events being held in Munich throughout May. The highlight event is the "The Norway of Jazz 2014" series at the legendary Pit club. The series will start on May 22nd with the great singer Solveig Slettahjell and it will continue on 24th with the drummer Thomas Stromen with his band and on 30th of May with the vocal group Trondheim Voices.
There will be prominent artistic figures like Nils Petter Molvaer, Bugge Wesseltoft, Sidsel Endresen, Silje Nergaard, Rebecca Bakken and Beady Belle as regular guests, as well as Tord Gustavsen, Eivind Aarset, Karl Seglem and many others.
The main concert will be the one in honor of the great composer Edvard Grieg; there will be a chamber concert in the program. First-class musicians have been committed to the concert like the Munich-based string quartet, which consists of musicians from the Symphony Orchestra of the Bavarian Radio. In addition, two Norwegian Soloists, Veit Wenk-Wolff (cello) and Adrian Selfjord (violin), will be present in the evening section. On May 25, there will be a celebration concert for the anniversary of the Norwegian Constitution.
The tickets are 20 euros each and can be purchased at the Norwegian Consulate. The number of places are limited, therefore, they are assigned in the order of arrival.
For more information: www.unterfahrt.de and 
http://www.norwegisches-konsulat-muenchen.de/kon/home.html.
News from Berlin - Berlin Global