News from Berlin
The Interior of Danish Houses Exhibited at the Nordic Embassies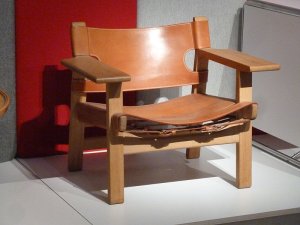 News from Berlin - Denmark wants to honor Børge Mogensen (13 April 1914 – 5 October 1972), on the 100th anniversary of his birth. On this special occasion, the Danish Embassy in Berlin will host an exhibition to show his high quality designs as well as the work of other classical designs of Holmegaard, Kay Bojesen and Rosendahl Timepieces. The exhibition at Felleshus, where the Nordic Embassies in Berlin are located, will be open to Berliners from October 7th to 31st. It is a good chance to explore not only an important part of Danish design history, but also a style that expanded to the rest of the world. The exhibition presents both classic and new designs and narrates the origins of the individual objects.
Mogensen's furniture is representative of his training as a traditional craftsman. His work was greatly appreciated by a public who had not yet become interested in modernism. In 1949, he designed a chair that was meant to be a model for future chairs, curved, with sloping backrest and in an organic dewdrop shape. This is only one of the multiple examples of Mogensen's talent. He tried to articulate new groups of materials and brought new concepts to the uses of the house.
According to the information provided by the Danish Embassy, Rosendahl Copenhagen and Fredericia Furniture were the Danish design houses entitled as curators of the exhibition, in which furniture, glass and light are mixed together.
Per Erik Veng, Councillor for Culture, Communications and Public Relations, opened this very special exhibition that tries to open the doors of Danish houses to their German neighbors.
News from Berlin – Berlin Global