| | |
| --- | --- |
| | The Embassy of Maldives in Berlin |
Contact
Address: Friedrichstraße 55A, 10117 Berlin, Germany
Tel.: (+49) 030 20073860
E-mail: info@maldivesembassy.de
The Ambassador
Amb. Aishath Shaan Shakir
Amb. Shakir was accredited by President Ibrahim Mohamed Solih on 20th July 2022 as the Ambassador of the Republic of Maldives to the Federal Republic of Germany. She has previously served as the Chief of Protocol at the Ministry of Foreign Affairs. She has also held other senior positions at the Ministry of Foreign Affairs, including the Joint Secretary of the Foreign Ministry and served as the Maldivian Ambassador to Bangladesh.
History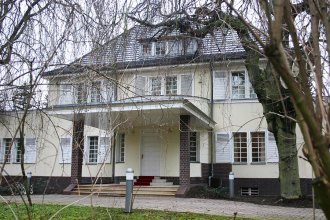 The Federal Republic of Germany has maintained diplomatic relations with the Maldives since 1966. The German Ambassador in Colombo is simultaneously accredited in Malé, where Germany has an honorary consulate. The Maldives maintains relations with Germany via its Mission to the European Union in Brussels. Maldives has an honorary consul in Germany.
Consolidating democracy and ensuring the rule of law and respect for fundamental rights in Maldives are major concerns of Germany. Special importance is attached here to strengthening democratic institutions. Until 2013 the Federal Foreign Office supported efforts to implement judicial reform through a comprehensive consultancy project in cooperation with the United Nations Development Programme (UNDP).
In addition, Germany is working together with the Maldives on international climate policy, a major political priority of the island nation. One of the goals being pursued by the Maldives is reducing greenhouse gas emissions to zero by 2020. As part of its International Climate Initiative, the Federal Environment Ministry supported this ambitious goal by funding a project to promote renewable energy, which was implemented by experts from the Deutsche Gesellschaft für Internationale Zusammenarbeit (GIZ). The project ended in July 2015.
On the economic front, German visitors have played a major role in making tourism the key sector of the country's economy. More than 105,000 German tourists visited Maldives in 2015, which means that Germans continue to constitute the second largest group of foreign visitors, after the Chinese, accounting for 8.5 per cent of the total number. Every year, the island nation has a high-profile presence at the World's Leading Travel Trade Show ITB in Berlin. Maldives is the ITB's official partner country in 2016.Bilateral trade was worth EUR 55 million in 2015, with German exports to Maldives amounting to EUR 31.9 million and Maldives' exports to Germany EUR 23.1 million.