News from Berlin
"The Eye of Istanbul-Retrospective 1952-2013" - A Review of Istanbul from 1950's to Present Day: Exhibition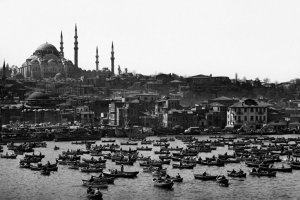 News from Berlin - Commemorating the 25th anniversary of the relations between the cities of Istanbul and Berlin, Gisela Kayser, manager and artistic director of the Willy-Brandt-Haus Friends Circle, has organized a photographic exhibition on the work of Ara Güler. The exhibition, which started October 16th, will be open until January 15th. The exhibition is presented under the auspices of Federal Economic Minister Sigmar Gabriel.
The Eye of Istanbul-Retrospective 1952-2013 aims to show the work of the best-known Turkish photojournalist Ara Güler, who began his career in 1958 working for the Turkish edition of the American magazine Time-Life. Some years after, he met his great colleagues Marc Riboud and Henri Cartier-Bresson, with whom he became part of the circle of the news agency Magnum. This launched his career internationally, which involved photographing many important figures such as Brigitte Bardot, Maria Callas and Pablo Picasso among others.
Güler, 86, has chosen 200 photographs from 14,000 for the exhibition. They show the daily life of Istanbul inhabitants from the 1950's to the present day. Most of the pictures are in black and white, although part of the sample contains color photographs taken by the artist during his trips through Pakistan, Nepal, Egypt, Iran and India among other countries.
Silence in the exhibition is broken by the films "The Eye of Istanbul" (Buldun Erdal, 1998) and "Photos of İstanbul" (Jim Rakete, 2013).
The exhibition is being held at Willy-Brandt-Haus (Wilhelmstrasse 140) from 12 am to 18 pm, Tuesday to Sunday. Entrance is free.
More information available at:
http://www.willy-brandt-haus.de/kunst-kultur/ausstellulngen/ara-gueler-das-auge-istanbuls/#c1976
News from Berlin - Berlin Global