| | |
| --- | --- |
| | The Embassy of Uruguay in Berlin |
Contact
Address: Budapester Strasse 39, 3. OG. 10787 Berlin Germany
Tel.: (+49) 30 263 90 16
Fax: (+49) 30 263 49 01 70

E-mail: urubrande@t-online.de
The Ambassador
Amb. Gabriel Bellón Marrapodi
Amb. Gabriel Bellón Marrapodi was born in 1973, and he appointed as ambassador of Uruguay to the Federal Republic of Germany in 2017.
Marrapodi has studied in the Deutsche Schule in Montevideo from 1977 to 1990, then completed his degree in International Relations at the Universidad de la República in Montevideo. His Master's degree in International Relations was received from Societá Italiana per l´Organizzazione Internazionale in Rome, Italy between 2004 and '05.
Throughout his career, he joined the Ministry of Foreign Affairs in 1997 as part of the Department of General Direction for Cultural Affairs/Direction of Protocol. From 1998 he worked as Third Secretary in the Foreign Service, then from 2000 as the Second, then First Secretary at the Embassy of Uruguay to the Holy See in Rome. Starting in 2006, he became the Vice Director of the Direction of International Economics Organizations. Between 2008 and 2013, Marrapodi was a negotiator for AG, NAMA, IP(OMC) and OMPI at the Permanent Mission of Uruguay to the World Trade Organization in Geneva, Switzerland. As Vice Director General between 2013 and 2015, he worked for Mercosur and Integration Affairs; Deputy Director General for Mercosur and Integration Affairs, Deputy National Coordinator for the GMC from 2014; Director General for Mercosur and Integration Affairs, National Coordinator for the Grupo Mercado Comun, Chief Negotiator for the Mercosur-EU-Negotiations from 2016 until 2017.
Amb. Marrapodi speaks English, German, Italian, French and Portuguese.
History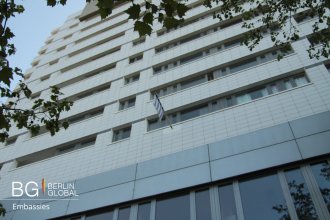 Germany and Uruguay have traditionally enjoyed very good relations. Since the 1850s, German immigrants have made an important contribution to the country's development. Uruguay offered asylum to German-speaking Jews from 1935 onwards. After the Second World War, Uruguay established diplomatic relations with both the Federal Republic of Germany and the German Democratic Republic.
Germany is well presented in Uruguay, as there is an active Goethe Institute. In 1867, a German binational school, The German School of Montevideo, was opened. Uruguay and Germany also share a university-entrance examination which qualifies takers for university in both countries. German Mennonite communities emigrated to Uruguay after the Second World War and nowadays, a German-language school is run by the Mennonites. A cultural cooperation accord was signed on 8 May 1989.
The German-Uruguayan Chamber of Commerce in Montevideo was founded in 1916 and currently has over 400 members, more than 50 of them domiciled abroad, some in Germany; it is affiliated to the regional chamber in Buenos Aires.
In October 2011, Uruguayan President José Mujica paid an official visit to Germany.