The Embassy of the Philippines in Berlin Conducted a Consular Outreach in Hamburg
A Way to Bring Consular Services Closer To Filipino Residents
August 12th, 2015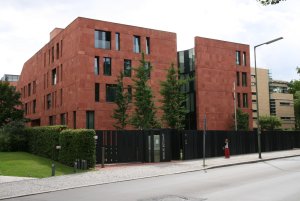 A consular team from the Philippine Embassy in Berlin conducted a mobile outreach service at the Freie Evangelische Kirche Holstenwaal in Hamburg. The team included Minister Donna Rodriguez, Mr. Ruben Atienza, Ms. Cecilia Estrella, Mr. Melchor Francisco, Ms. Amor del Mundo and Ms. Marie Reyes. The consular outreach is conducted in order to bring consular services closer to Filipino residents in Germany.
This was the sixth such mission to be conducted by the Philippine Embassy in 2015. The consular team accommodated all of the consular applicants, facilitating 121 passport applications, notarization and authentication of documents, and registrations under the Overseas Absentee Voting (OAV) system. The team also answered consular inquiries posed by Filipino applicants and strengthened the Embassy's network with Filipino community leaders.
Following the mission in Hamburg, the Embassy team traveled to nearby Lübeck the following day to conduct Overseas Absentee Voting registration in cooperation with Dinotrans SIA, a logistics and trucking company which employs around a hundred Filipino truck drivers. The next consular outreach mission is to take place in Frankfurt on August 15th 2015.
Germany has been a close partner of the Philippines since 1961 and today, it is the third largest donor country for the Philippines, according to the Embassy website. The export from Germany to the Philippines is constantly growing and focuses on machinery, aircraft and pharmaceutical products.
References and Links
News from Berlin
Alice Zhubanova, Berlin Global