The Embassy of Panama presents the Work of the Artist Carmen Zoraida Del Carmen Dreesbach
H.E. Amb. Guido Spadafora opens the exhibition of the Panamanian artist in Berlin
July 20th, 2016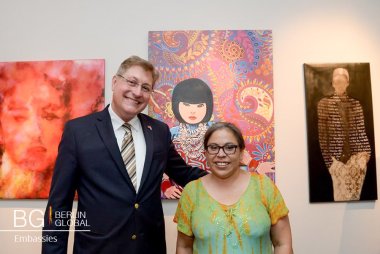 H.E Amb. of Panama in Germany, was present in the inauguration of the Exhibition was held in last 14th of July in the Berlin Gallery SOS Children's Villages.
The artist Zoraida Delcarmen Drees Bach grew up in SOS Children's Village Panama City. His works glow in intense colors and lead us through fantasy worlds and his native Panama. For the first time, we can now enjoy his works in Berlin. Drees Del Carmen Zoraida Bach was not an easy start in life. After the death of her parents and years of abuse in a foster family who grew up in an SOS Children's Village of Panama.
The Panamanian artist, Zoraida Del Carmen Dreesbach, spent her childhood in SOS Children's Village Panama City. The representative of the board of SOS Children's Villages worldwide, Petra Horn, who was also present at the opening of the exhibition, mention the peculiar way of Zoraida: "Zoraida with her biography exemplifies the important work of SOS Children's Villages worldwide. I'm glad, "Ms. Horn said," that the proceeds from the sale of the images go directly to SOS Children's Village Panama City. Therefore it gives benefits children there who still have their way forward. "
The opening ceremony was prepared like a summer party, where color and live music of South America were the main guests, besides many other guests. It was a joyous party, full of artworks which are available for sale in the gallery of SOS Children's Villages.
Today is the last day we can enjoy the exhibition, which ends today, July 18th at 16:00.
Again we can see in these acts as art serves as a means of expression of a culture, to publicize the Panamanian culture to German culture, a mixture of cultures that is perceived in the inauguration party.
Through the many activities that embassies provide we can understand more the lifestyle of the country, people and way of life in Panama. An art tour that we cannot miss.
References:
News from Berlin