| | |
| --- | --- |
| | The Embassy of North Korea in Berlin |
Contact
Address: Glinkastrasse 5-7, 10117 Berlin, Germany
Tel.: (+49) 30 20 62 59 90
Fax: (+49) 30 22 65 19 29
E-mail: info@dprkorea-emb.de
The Ambassador
Amb. Pak Nam Yong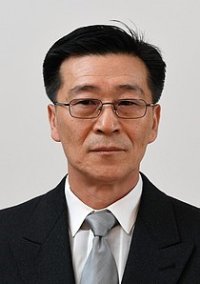 Since 24.04.2017
Birthday
14. 09. 1956
Education
International Relations
Important stations
Abuja, Islamabad
History
Political relations between Germany and North Korea date back to the period immediately after the Democratic People's Republic of Korea was officially founded on the 9th of September 1948. The former German Democratic Republic (GDR) maintained diplomatic relations with North Korea from 1949 onwards and was one of the country's most important partners in the Eastern bloc. Following German reunification, a mission representing the interests of the Federal Republic of Germany was initially opened on the premises of the former GDR Embassy in Pyongyang, with Sweden acting as protecting power. At the same time, the former North Korean Embassy in East Berlin was turned into an Office for the Protection of the Interests of the Democratic People's Republic of Korea, with the People's Republic of China acting as protecting power. The Federal Republic of Germany and North Korea established diplomatic relations on 1 March 2001.
Under the EU's Common Foreign and Security Policy as well as in bilateral relations, Germany is trying to get North Korea to resume the six-party talks on ending its nuclear weapons programme. At the same time, Germany is endeavouring to induce North Korea to enter into a dialogue with the international community on the human rights situation in the country. Germany is not engaged in bilateral development cooperation with North Korea. Humanitarian aid has played an important role in bilateral relations in recent years, but this was terminated by the North Korean government in 2006. Since then, assistance has continued in the form of development-oriented emergency and transitional aid under the umbrella of the EU.
Since the establishment of diplomatic relations, there have been no visits to North Korea by German government delegations at ministerial levels or trips to Germany by North Korean government ministers (except for the visit by then Physical Culture and Sports Minister Pak Myong Chol, who travelled to Germany in June 2011 to attend the opening match of the FIFA Women's World Cup). However, there have been several official visits to North Korea by members of the German Bundestag. The North Korean side shows some interest in German culture, mainly in classical music, films and literature, but cultural and education work is highly restricted by the requirement that official permission be obtained for any activities and by prior censorship. Since the 1990s, Germans have no longer been allowed to study or pursue research in North Korea. Trade between Germany and North Korea has fallen by nearly a half in just a few years. It now stands at a very low level: approximately EUR 12 million a year. Germany's principal imports from North Korea are textiles. Its main exports to North Korea are pharmaceutical products. No bilateral agreements have yet been concluded on economic, financial or scientific and technological cooperation.