| | |
| --- | --- |
| | The Embassy of Malaysia in Berlin |
The Ambassador
Currently the position of the Ambasador of Malaysia to Germany is vacant.
History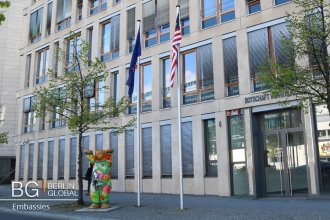 Political relations between Malaysia and Germany are based principally on the two countries' intensive economic relations. Germany sees Malaysia as an important and stable partner in Southeast Asia and a leading member of ASEAN, and also as a prominent, moderate representative of the Islamic world. Germany acknowledges Malaysia's role within the United Nations and its conciliatory regional stability policy (southern Thailand, southern Philippines, and South China Sea). Federal Chancellor Merkel met for the first time with the current Malaysian Prime Minister Najib (in office since April 2009) on the sidelines of the Washington Nuclear Security Summit in April 2010. She met with him again on the sidelines of the ASEM Summit in Brussels in September 2010 and most recently at the ASEM Summit in October 2014. Federal Foreign Minister Steinmeier met with his Malaysian counterpart Anifah most recently in June 2015 in Berlin.
Economic relations between Germany and Malaysia have for many years been very close and are an essential element in the good relationship between the two countries. The visit to Kuala Lumpur by Parliamentary State Secretary at the Federal Ministry for Economic Affairs and Energy Zypries in October 2015 has helped to further cement economic relations between the two countries. Joint bodies and institutions include the Malaysian-German Chamber of Commerce and Industry (established in 1992) and the German-Malaysian Institute, which is engaged in vocational training.
The principal economic accords between the two countries are the agreement on investment promotion and protection (1960), the air transport agreement (1968), the double taxation agreement (2010) and, at regional level, the cooperation agreement between the European Community and ASEAN (1980). The EU and Malaysia commenced negotiations on a free trade agreement in 2010.
Cultural cooperation between the two countries focuses on education and language work. Nearly 650 people are enrolled in the Goethe Institute Malaysia's language courses. The Malaysian-German Society in Penang also offers German language courses.