| | |
| --- | --- |
| | The Embassy of Libya |
The Ambassador
Amb. Jamal Ali Omar El-Barag
Amb. Jamal Ali Omar El-Barag was the General Director of the Small and Medium Scale Industries at the Authority Ministry of Industry, Tripoli-Libya from 1988 to 1989, the Director of Training, Libya Iron and Steel Company, Misurata, Libya from 1994 to 1997 the Head of Production Sector from 1998-2002, within the same company he was Member of Brand Directors from 1994 to 2004. Afterwards he became the General Director of Cooperation within Libya Foreign Ministry from 2003-2008. From 2004 to 2008 he became chairman of the Libyan side of the Executive Committee of Tunisian Libyan Cooperation, from 2008 to 2012 he was nominated ambassador to Germany for the first time and after covering the role of director of International Cooperation at the Libyan Ministry of Foreign Affairs from 2017 to 2019 he's continued being the head of the German Embassy since 2020.
History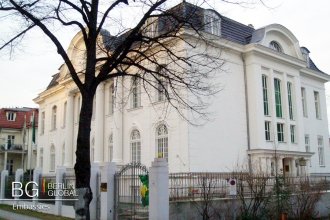 Germany and Libya have maintained mutual relations since Libya gained its independence in 1955. Since the Libyan revolution in 2011, the Federal Government has assisted the country in its transition to democracy. Federal Foreign Minister, Westerwelle, and Federal Economics Minister, Rösler, visited Libya in 2011 and 2012. On account of the critical developments in Libya's political and security situation since early 2014, it has proven impossible to intensify political relations to the extent desired by both sides. Since late July 2014 the German Embassy in Tripoli has been temporarily relocated to Tunis.
Germany is also helping Libya to establish a civil society. Projects funded by the Federal Foreign Office include the organisation of a major women's conference, attended by participants from all sections of society, to promote the need for women to play a stronger role in the future constitutional convention. In addition the Federal Foreign Office is supporting Libya's participation in various regional initiatives that are seeking to strengthen the political involvement of young people and marginalised groups in the Middle East and North Africa (MENA) region, and to help establish the rule of law and ensure that there is respect for human rights.