| | |
| --- | --- |
| | The Embassy of Haiti in Berlin |
Contact
Address: Uhlandstrasse 14, 10623 Berlin, Germany
Tel.: (+49) 30 885 541 34
Fax: (+49) 30 886 242 79
E-mail: amb.allemagne@diplomatie.ht
The Ambassador
Amb. Dr. Frantz Bataille
Amb. Dr. Frantz Bataille was born in 1950, and is the father of 4. He has been working as the Ambassador of Haiti to the Federal Republic of Germany since 11th March 2021.
Bataille has studied medicine and pharmacy from 1970 to 1976, then economy at the Faculté de droit in Haiti between 1988 and 1993. He has worked as a teacher, physician, and editor-in-chief before entering the Ministry of Information in 1988. From 2015, he served as Chargé d'affaires in Germany before his assignment as Ambassador to Germany.
Amb. Bataille speaks English, Spanish and French, while studying German.
History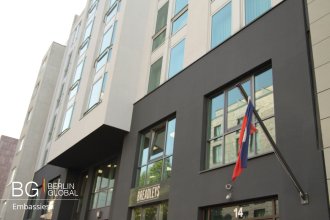 Bilateral relations between Germany and Haiti have traditionally been good and have increased in intensification in recent times. There is a close cooperation between the two countries in the United Nations and in other international organizations. Germany accompanied the democratization process in Haiti and provides the means and support to the development process in the country both through bilateral partnerships and through the European Union. These programs mainly focus on the agriculture, natural disasters prevention, HIV prevention and energy supply's fields.