| | |
| --- | --- |
| | The Embassy of Dominican Republic in Berlin |
The Ambassador
Amb. Francisco A. Caraballo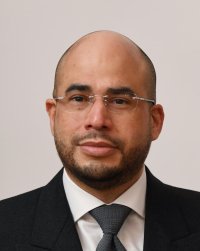 Amb. Francisco A. Caraballo was born in 1973 in Santo Domingo. He has been serving the Dominican Republic as Ambassador to Germany since 2nd of February 2021.
Caraballo has completed his bachelor's in law at the Universidad Nacional Pedro Henriquez Ureña summa cum laude, and his master's in International Relations and International Business Management at Georgetown University, Washington DC.
At the Embassy of the Dominican Republic in Washington, D.C., he held various roles, including deputy chief of mission, minister counsellor (head of the political section) and counsellor (legal affairs). He was a deputy permanent representative in the Permanent Mission of the Dominican Republic to the United Nations in New York and the first Dominican ambassador based in Rabat, Morocco, where he was dean of the diplomatic corps of the Americas and consolidated the image of the country in northern Africa. He was a permanent representative of the Dominican Republic to the United Nations Office and other International Organizations in Geneva, Switzerland. He was member of the Special Consultation Commission for matters concerning the United Nations Security Council for the duration of the Dominican Republic as a non-permanent member of the United Nations Security Council (2019-2020). He has received numerous awards in various positions.
He speak Spanish, English and French.
History
Relations between Germany and the Dominican Republic have traditionally been friendly. Economic exchange (especially tourism) and development cooperation are key factors in relations between the Dominican Republic and Germany. The number of Germans living in the country is estimated to be around 10,000, most of whom have settled on the north coast (in Puerto Plata, Cabarete and Sosúa) and in the capital Santo Domingo.
Economic relations between Germany and the Dominican Republic have intensified, especially since the beginning of the country's economic upswing in the late 1990s. There are some 60 German companies operating there. The Dominican government is keen to strengthen economic relations with Germany. Interest focuses on German medical technology, alternative-energy technology and its products to resolve problems in the energy sector and, more recently, "clean" mining technology, as well as tourism (identifying new segments like ecotourism and sport/wellness tourism).
Germany is one of the Dominican Republic's principal European markets for organic products, a German firm for eco-standards has set up business in the country to monitor product quality.