| | |
| --- | --- |
| | The Embassy of Cuba in Berlin |
The Ambassador
Amb. Juana Martinez Gonzalez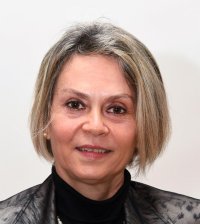 Juana Martinez Gonzalez was born in 1968 in Holguin, Cuba, and is working as the Ambassador of Cuba since 7th April, 2022. She is married with two children.
Amb. Gonzalez has a degree in Political International Relations from the Raúl Roa García School of International Relations. Starting out her career at the Ministry of Foreign Affairs, she specialized in European affairs. Between 1995 and 1998, she was 3rd Secretary of the Cuban Embassy in Bulgaria. Then from 2001 to 2005 she participated in two diplomatic missions to Germany, after which she returned to the Ministry as Deputy Director, then Director of the Public Relations and Information Department until 2011. She became the Ambassador of the Republic of Cuba to the Republic of Peru from 2011 until 2016, after which she took the position of Head of the Document Management Centre of the Ministry of Foreign Affairs.
Amb. Gonzalez speaks Spanish, German and English.
History
Relations between Germany and Cuba run along the same lines as those between the European Union and Cuba. The two sides are engaged in negotiations on an agreement on cooperation and political dialogue. Germany welcomes the process of rapprochement between the United States and Cuba, which began in December 2014 and also of Cuba's efforts to implement economic reforms. Germany is also open to the future development of bilateral relations, however these are dependent on how the human rights situation in Cuba evolves.
With regard to economic agreements, in 2014 German exports to Cuba were worth approximately EUR 191 million, compared with approximately EUR 185 million the previous year. Cuban exports to Germany amounted to EUR 33 million, compared with approximately EUR 48 million in the previous year. Germany's principal exports to Cuba were machinery, chemical and pharmaceutical products, plastic goods, food, medical equipment, motor vehicles and vehicle parts. Cuba's main exports to Germany were alcoholic beverages, tobacco products and honey as well as fruit and vegetable juices. In 2000 a bilateral debt restructuring agreement settled the matter of Cuba's foreign debts to Germany, enabling Hermes export credit guarantees to be resumed as well.
As for development cooperation, the German Embassy in Havana supports a number of micro-projects every year, most of which are implemented through church-affiliated organisations and Several German non-governmental organisations engaged in Cuba. In relation to cultural relations, of particular importance are the exchange and practical networking between Cuban cultural workers and Germany's cultural scene. Young dramatists and directors from Cuba have been able to complete guest stints at German theatres and Cuban film-makers have been invited to participate in the Berlin Film Festival.