The Embassy of Colombia in Germany Celebrated Its National Day
Colombian embassies from all over the world stand united in celebration for 206 Years of Independence
August 11th, 2016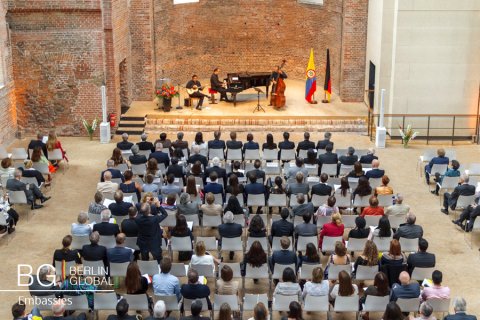 The missions of Colombia abroad have been preparing few days of celebration for all the Colombian citizens residing all over the world, making them feel closer to their roots. Music, dance, art exhibitions, lectures and many other activities will continue throughout July to mark the 206 years of Independence.
Different artists will represent the Colombian talent in collaboration with the Colombian embassies in Belgium, Switzerland, South Africa, El Salvador, Vietnam, Jamaica, Australia, Korea, Netherlands, Brazil, Algeria, Guatemala and the United Kingdom, to quote a few. Renowned Colombian artists will become the ambassadors of Colombian culture abroad, successfully representing the talent of the country to foreign communities and consolidating the new side showing Colombia to the world.
Among the artists, there will be representatives of the San Andres and Providencia archipelago: Orange Hill, who will perform in Costa Rica (July 20) and Nicaragua (21 and 22 July); Elkin Robinson, who will start his tour in Jamaica (19 July) and will continue in Canada (July 22), Honduras (July 26) and Guatemala (July 28).
The Embassy of Colombia in Germany celebrated the National Day with an event enlivened by the Trio New Colombia in the St. Elisabeth Kirche of Berlin. During the event, about three hundred people were invited by the Embassy to celebrate Colombian Independence Day. Among them, there were members of the German government, the diplomatic corps accredited in Berlin, and representatives of the highest level of academic, scientific, business, cultural and journalistic sectors, as well as members of the Colombian community in the city.
The event, developed in the framework of the Promotion Plan of Colombia Abroad, was opened with remarks by Ambassador Juan Mayr Maldonado, followed by the national anthems of the Republic of Colombia and the Federal Republic of Germany, and then gave way to the concert of Trio New Colombia, a Colombian group composed by Germán Darío Pérez (piano), Ricardo Pedraza (tiple) and Mauricio Acosta (bass).
The trio has established itself as one of the main exhibitors of the music of the Andean region, both for its great knowledge of the local musical tradition and for the immense contribution it has made to the genre, creating a style that crosses borders and incorporates elements of other languages, such as jazz and other various Latin American musical styles.
The concert continued with works of famous Colombian composers, such as Francisco Cristancho, Adolfo Mejia and Germán Darío Pérez, and it was followed by a reception in the garden. Attendees praised the performance of the Trio New Colombia and expressed their admiration for the Colombian Ambassador, who has recently strengthened the relationship between Colombia and Germany through clear management and numerous cultural events.

References:
News from Berlin