| | |
| --- | --- |
| | The Embassy of Canada in Berlin |
Contact
Address: Leipziger Platz 17, 10117 Berlin, Germany
Tel.: +49 (30) 20 312 - 0
Fax: (+32) 2 513 07 41
E-mail: brlin@international.gc.ca
The Ambassador
Amb. Isabelle Poupart
Isabelle Poupart joined the Quebec Bar in 1993 and worked as a lawyer prior to joining the Department of Foreign Affairs and International Trade in 1995. At Headquarters, she worked in the Legal Bureau and in the International Economic Relations and Summits and the Defence and Security Relations divisions. Her first assignment abroad was at the Permanent Mission of Canada to the United Nations in New York. She also worked for the Conflict Prevention Centre of the Organization for Security and Co-operation in Europe (OSCE) in Vienna. She served twice at the Joint Delegation of Canada to NATO in Brussels—the second time as head of the Political Section. Upon her return to Ottawa, she worked as senior adviser to the Assistant Deputy Minister for Global Issues, Strategic Policy and Europe. She was Ambassador and Permanent Representative of Canada to the OSCE (2013-2016), then Ambassador to Hungary, Slovenia and Bosnia and Herzegovina (2016-2019). Since August 2019, she serves as Minister and Deputy Head of Mission of Canada to Germany.
History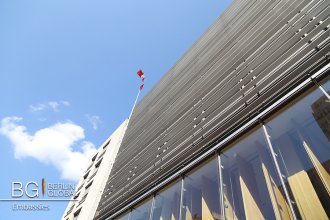 Bilateral relations are cordial. Canada is an important North American friend and ally and is receptive to European and German interests as a result of its history and national vision. Canada and Germany share common values and fundamental convictions. Germany and Canada are linked by their active involvement in international bodies and organizations, especially in issues of security and disarmament, human rights, humanitarian activities and peacekeeping operations. It is in Germany's interest for Canada to maintain its strong commitment to Europe as a member of the North Atlantic Treaty Organization (NATO) and the Organization for Security and Co-operation in Europe (OSCE).
Mutual official visits are frequent. Federal President Gauck visited Canada in September 2014, the first such visit in 24 years. Then Canadian Prime Minister Harper paid a visit to Germany in March 2014. Federal Chancellor Merkel travelled to Ottawa on the 9th of February 2015, holding talks with Prime Minister Harper on the agenda during Germany's G7 presidency. She had previously paid a bilateral visit to Canada in August 2012.
Bilateral economic relations are untroubled but the volume of trade fails to match the potential of the two countries' economies. In 2014, German exports to Canada were worth EUR 8.6 billion and German imports from Canada EUR 3.4 billion. In German foreign trade statistics, Canada ranks 28th among buyers of German exports and 38th as a supplier of German imports. By contrast, Germany is for Canada the fifth most important exporter of goods and the eighth most important importer of goods. Germany's main exports to Canada are motor vehicles and vehicle parts and machinery. Its principal imports from Canada are raw materials. In addition, the two countries supply each other with electrical and optical goods and chemical products.
Canada and Germany concluded a double taxation agreement in 2002, superseding that of 1981. A Framework Agreement for Commercial and Economic Cooperation has been in force between the European Union and Canada since 1976, an accord on cooperation in science and technology since 1995, a wine and spirits agreement since 2003 and an air transport agreement since 2009. Negotiations on the text of the Comprehensive Economic and Trade Agreement (CETA) were concluded in September 2014. The signing and ratification of the agreement are in preparation.