| | |
| --- | --- |
| | The Embassy of Cameroon in Berlin |
Contact
Address: Ulmenallee 32 ,14050 Berlin, Germany
Tel.: (+49) 30 89 06 80 90
Fax: (+49) 30 8 90 68 09 29
E-mail: contact@ambacam.de
The Ambassador
Amb. Victor Ndoki
In 1982 he joined Cameroonian administration. He is a Senior Police Superintendent and has held several positions at the General Delegation for National Security as well as at the Presidency of the Republic.Between 1983 and 2003, he was Chief of Service, Sub Director, Director at the General Delegation for National Security, in charge of personnel and training. Between 2003 and 2006, he worked as Chargé de Mission at the General Secretary of the Presidency of the Republic. From 2006 till 2015 he was General Secretary of the General Delegation for National Security. He was appointed as Ambassador Extraordinary and Plenipotentiary of the Republic of Cameroon to the Federal Republic of Germany on 2nd November 2020.He has several honours, including Officer, Commander and Grand Officer of the Cameroonian National Order of Value.
History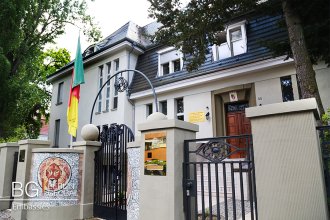 Relations between Germany and Cameroon are good, mainly due to Germany's participation in development cooperation.
Since 2012 high profile visits have increased in intensity. The Bundestag Vice President, Johannes Singhammer, visited Cameroon in June 2014, and the Federal Minister for economic Cooperation and Development, Gerd Müller, was there from 12th to 15th March 2015. Cameroon Minister of Foreign Affairs, Pierre Moukoko Mbonjo, visited Germany from 22nd to 25th February 2015. Three visits to Cameroon by delegations of the German Bundestag in October and November 2015 and again in February 2016 highlight the quality of bilateral relations at parliamentary level.
Germany is one of the partner countries of the Cameroonian development cooperation and works closely with Cameroon on the basis of intergovernmental agreements. Intergovernmental negotiations take place every two years, most recently in November 2015, in Yaoundé. During these negotiations the two states coordinated their development cooperation plans for the next three years.
In Cameroon there is great interest in Germany on account of its excellent reputation in the field of science and technology. There are about 230,000 students of German in Cameroon and around 1,000 German teachers.
Some 7,000 Cameroonians are enrolled at German universities, so far the largest group of African students in Germany.