The Berlin Bicycle Week
The passion, innovation, and diversity of the international cycling world event will once again take over Germanyís capital for Berlin Bicycle Week
March 17th, 2015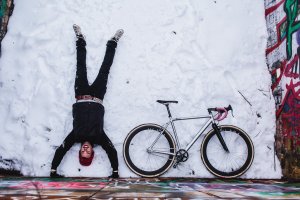 From March 16th to March 22nd, Berlin is hosting an international event dedicated to the world's most efficient machine. Berlin Bicycle Week is the most widely acclaimed cycling event of the spring, and features the very best cyclists, brands, exhibitions and competitions, where, for the whole week, races, special events, shows and activities engage the German and International cycling community. It offers everyone the chance to watch and participate in a wide variety of cycling events held around the city.
The Berlin Bicycle Week was opened yesterday with Cinelli's specialist show at the prestigious Soho House, in collaboration with Massimo Giacon. It is at this same venue that Cinelli will close the week by showing its very latest creations during the Berliner Fahrrad Schau show. It will also offer a fixed-gear memorabilia-exhibition in the prestigious Store space of the Soho House club in Berlin. Massimo Giacon is an Italian graphic artist and designer whose works are to be displayed and shared in the world's most iconic books, magazines, galleries and museums - such as Rolling Stone magazine, Triennale di Milano museum, Swatch, Biennale di Venezia, Alessi, Olivetti, Memphis and Mondadori.
Celebrations will continue throughout the week, followed by exhibitions, conferences, gatherings, book presentations and movie screenings. Organizers are hoping to highlight the importance of a vehicle as simple as the bicycle in inter-cultural exchange and relations.
Whether one's interests lie in competitive cycling, cycle culture, new technologies, fashion, or design—or just having a good time with other cyclists— the Berlin Bicycle Week is the chance to connect with cyclists of every kind.
News from Berlin
Berlin Global