News from Berlin
Thai New Year Event at the Residence of Thailandís Ambassador to Germany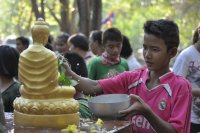 News from Berlin - The Thai New Year, or Songkran, is celebrated each year from April 13th to April 15th. For this occasion, the Thai Ambassador to Germany, the Hon. Miss Nongnuth Phetcharatana, invited many prominent guests to her residence in Berlin on a colder-than-usual April 10th evening.
Upon entering, guests were asked to empty a cup of water over a small Buddha statue, and to make a wish. It is the traditional way of blessing yourself and the new year. After that, guests could proceed to have a Thai massage, experience Thai floral art, enjoy traditional Thai music being played live, or go to the garden where they could have a taste of various Thai dishes, some of which were prepared on the spot.
After all the guests had arrived, the Ambassador gave a warm welcome speech and invited all to enjoy some displays of Thai culture: traditional dance and martial arts (Muay Thai and traditional sword fighting). Especially the latter was extremely impressive since the demonstration included real swords. In all, it was a short, but fantastic introduction into Thai culture, and definitely left attendees wanting more.
News from Berlin - Berlin Global