Team of Artists from Pakistan Will Bring the Art Truck to Life
The Phool Patti Team Arrives in Berlin to Display Their Popular Art from Pakistan
August 13th, 2015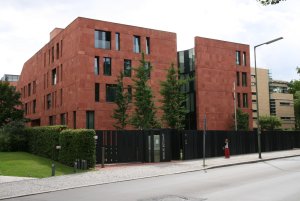 Between August 15th and 17th, Berlin will undergo a colorful change thanks to the Truck Art Team from Pakistan, supported by the Pakistani Embassy in Berlin. The Phool Patti team will paint a car, a wall and a mini container with floral patterns, birds, animals, poetic verse calligraphy, and words of wisdom, among other things, much like the graffiti art at the East Side Gallery.
Phool Patti is an independent social enterprise company, founded by Ali Salman Anchan, which strives to promote Pakistani Truck Art around the world. It is committed to the preservation of this unique form of folk art, which originated in Pakistan. Truck Art has a distinctive, unique style, and the designs make the trucks beautiful to look at. In the past, truck drivers took a lot of time making sure that their trucks where the best decorated, and hence truck art became formally known as "Phool Patti." Phool Patti has become its own established culture in Pakistan. Phool Patti is not only used to decorate trucks, but also various other objects, as a means of creating beautiful pieces of interior decoration, as well as being used in museums and exhibitions as pieces of art.
Join the truck Art Team from August 15th to 17th, from 15:00 on August 15th, and from 11:00-17:00 the other two days, at East-Side Gallery, Mühlenstrasse 70-71, 10243 to witness this unique and very popular art form from Pakistan.
References and Links
News from Berlin
Daniela Ivanková, Berlin Global