News from Berlin
Symposium in Berlin for North Korean Human Rights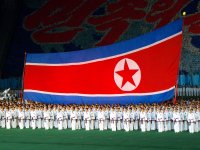 News from Berlin - 'The National Human Rights Commission of Korea' hosted an International Symposium with UN COI (Commission of Inquiry), Freie Universität Berlin and Hwa-jeong Peace Foundation of Dong-a News Journal. This symposium, 'The World's Tasks and Strategies to Improve North Korea's Human Rights' took place today, May 13th in Berlin, the city of division and unification.
Last March, COI regulated the North Korean Government's human rights violence as an anti-humanitarian crime, and urged our society, including the UN and the ICC (International Criminal Court) to take action. Furthermore, the Human Rights Committee of the UN confirmed all 268 claims to improve North Korea's bad human rights situations (such as their political prison camps and Marked for Life system) in the UPR (Universal Periodic Review), which took place on May 1st.
COI's research outcomes and suggestions are very meaningful since the world started to be involved in North Korea's human rights issues regarding the R2P (Responsibility to Protect), which means, "The international society should protect the people from the government when the government does not do their duty for human rights". Thanks to this, North Korea's human rights issue has become a common issue in the world, which cannot be ignored anymore.
The National Human Rights Commission of Korea is looking forward to finding detailed strategies and cooperation plans from this symposium, and to improve North Korea's human rights by forging sympathy and drawing attention from all over the world.
News from Berlin – Berlin Global