Summer Program "Brazil, discovering the Amazon"
Brazilian Embassy presents the Summer Program "Hello Brazil!" in its cultural agency
July 26th, 2016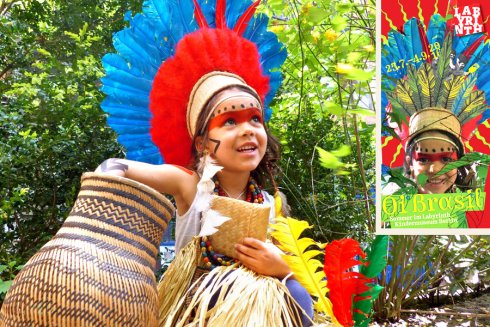 From July 24th to September 4th we can enjoy the Summer Program promoted by the Brazilian Embassy in Berlin in the Labyrinth Kindermuseum.
The Labyrinth Kindermuseum is a space not only for children, but for the whole family, the museum offers interactive exhibits on current issues and during the summer holidays organizes creative programming for 6,500 visitors of all ages from 3 years. The program "Hello Brazil! Entdeckt Amazon" is entirely inspired by Brazil.
Around 240 tribes comprising of about 900,000 people currently live in Brazil, which is equivalent to 0.4% of the Brazilian population.
The Government has recognized 690 territories as belonging to its indigenous inhabitants, covering approximately 13% of the country's area. Most of this land reserve (98.5 %) is located in the Amazon.
Despite centuries of contact with the ever-expanding frontier society, in most cases they have retained their language and customs with determination, despite the massive continued theft and intrusion on their lands.
Most tribes live entirely in the jungles, savannahs and rivers hunting, gathering and / or fishing. They cultivate plants for food and medicine, and also use them to build their houses and manufacture the tools they need for the day.
In the 500 years that have passed since Europeans arrived in Brazil, indigenous peoples have experienced massive genocide and the loss of most of their land.
These are the main reasons why this program will be promoted through the Embassy of Brazil in Berlin.
Six workshops will be offered, where children will learn more about this interesting and abandoned culture through traditional games, songs, crafts and dances.
It is important to bring the culture of Brazil to all the layers that make up society, including children. It is part of learning about a culture and, with the help of workshops, will hopefully help to increase cultural approach and the acceptance of other cultures among other children. In a city as cosmopolitan as Berlin they will encounter these exchanges between cultures all the time.
References:
News from Berlin