News from Berlin
Steinmeier Travels to Asia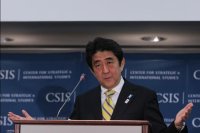 News from Berlin - This weekend sees Germany's Foreign Minister Steinmeier travel to Japan and China to meet with leading politicians in the country to predominantly discuss security and stability issues in East Asia.
From April 11th until April 12th, Steinmeier will first of all visit Japan with his first destination being Tokyo. Here, the Foreign Minister will meet with Prime Minister Abe in Tokyo and Foreign Minister Kishida in Hiroshima. He will then continue and travel to Peking to hold counsel with Premier Li Keqiang and Foreign Minister Wang Yi.
Overall, the visits will focus on discussions regarding non-proliferation and disarmament. Here, the German politician has underlined Germany's deep and close relationship to the two Asian states and the need for further cooperation to achieve aims regarding security and peace. For this, Steinmeier will also visit an event of the Non-Proliferation and Disarmament Initiative. In a statement released by the Foreign Ministry, it has also been touched upon that China and Japan have developed rapidly in recent times and therefore enjoy ever increasing importance in international affairs. This entails strengthening ties and deepening cooperation to address global issues. This can also be seen by the fact that discussions regarding the current situation in the Ukraine will also be high up on the agenda this weekend.
News from Berlin – Berlin Global