Speech Writing Contest to Strengthen German-Japanese Relations
Japanese Embassy issues a contest, with a flight to Japan as first prize
February 13th, 2015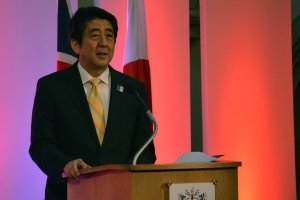 This February, the Embassy of Japan in Berlin issued a speech writing contest with the topics: 'Japan and me' or 'My proposal for improving Japanese-German relations'. Only non-Japanese, or individuals without Japanese parents are allowed to join the competition. The speech should be written in both German and Japanese. With this competition, Japan tries to muster more attention for the Japanese language, while simultaneously gathering ideas for the improvement of bilateral relations.
Japanese relations with Germany go back to the 1930s. Both on the wrong side during the Second World War, their shared history resulted in a vivid interaction on economic, cultural and political levels. However, the linguistic barrier has always been a problem. Because of the different characters and the distance, maintaining a high level of cultural cross-pollination is harder. Therefore, Japanese cultural institutions in Germany have continued to provide Japanese courses. Also, Japanese is offered as a language at several high schools in Germany. In this way, a more secure basis for Japanese culture was established in Germany.
Still, Japan tries to broaden international knowledge of Japanese culture. Through the promotion of the Japanese language among Germans, the country wants to build a basis upon which the two cultures can understand each other. The competition is organized with support of, among others, All Nippon Airways and in cooperation with the Japanese-German Centre Berlin, the Japanese Cultural Institute and BIG-S, the Society of Improvement of Japanese-German Exchange.
This contest gives a clearer image of the cultural relations between Japan and Germany and shows what opportunities there are to broaden the basis of cultural exchange and political cooperation. Furthermore, the contest it is a smart way to see how Germans, who are interested in Japanese culture, interpret bilateral relations with Japan. Finally, the submitted speeches could supply great new ideas to strengthen bilateral relations further.
References and Links
News from Berlin
Berlin Global