South African Embassy Hosts Exhibition
The South African Embassy in Berlin remembered Freedom Day by hosting and art exhibition
June 02nd, 2017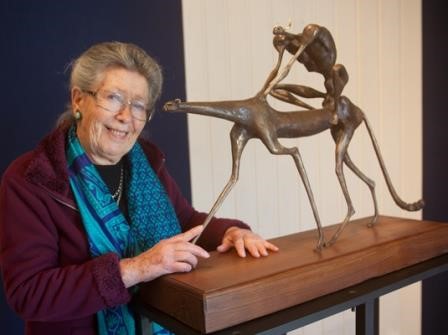 Freedom Day is celebrated every year on the 27th of April. It's when the first democratic elections took place in the post-Apartheid era in South Africa. On the event Maureen Quin presented her sculptures series named "The Hunt".
"The Hunt" contains 14 sculptures. It took Maureen eight years to finally complete the series. Her work was also being reviewed by the art magazine "Goya" in 2001. The exhibition's themes are: humankind's abuse of the environment and also a plea to stop it once and for all. As pointed by the artist: "…in the name of development, greed, power and self-gratification …""The Hunt" series are quite old, they were finished in the 1999, but it is the first time that the series are exhibited in Germany.
Maureen was born in 1934 and has been a recognized artist for many years now. Throughout her life, she received many awards for her work such as: Silver Medal; Award in the field of Arts and Culture; and more recently the Medal of Honor for Visual Art from the South African Academy of Science and Culture. The most famous of her sculptures is "Mandela and a Child", which she worked on with the former President of South Africa. The sculpture was meant to empower the disadvantaged and unfortunate, so that they become self-confident and self-sufficient.
In Germany, the exhibition opened at Glücks-Galerie in Neustadt on Thursday, 4th May, and can be visited until 4th June. The Curator of the exhibition is Ulrich Reimann, which visited the Quin Sculpture Garden in Alexandria, where he saw the series and become fascinated by her work.
After seeing the sculptures, it becomes obvious that the nature has inspired the art, but it also inspires the beholder to think about the destructive behavior towards our environment. The exhibition has a clear and valuable message: "Let's protect our heritage, let's protect nature".
News from Berlin