News from Berlin
Solo for South Africa: Moshekwa Langa – Art and Identity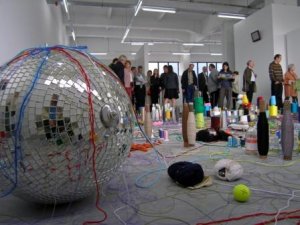 News from Berlin - The Berlin art gallery of the Institute for Foreign Relations will be hosting a solo exhibition for South-African artist Moshekwa Langa from July 11th till September 29th. The exhibition is part of a series, entitled "Solo for…". These are solo exhibitions for artists who were first discovered and exhibited in the galleries of the Institute for Foreign Relations years ago, at the beginning of their international careers, and sometimes for the first time in Germany.
What is special about Langa is that he is just as familiar with European culture, and particularly literature, as he is with the visual culture of South Africa. A reason for this is that Langa has been based permanently in the Netherlands for a while now and his art has risen to fame overseas long before being noticed in his own country. The South-African- born artist Moshekwa Langa was born in 1975, which was more than a decade before the official end of apartheid. As a black South African, he experienced first-hand the injustices of racial segregation and the effects of the vast government program known as "grand apartheid."
Invited at a very young age to study at a renowned art academy in Amsterdam, Langa started making a career and a name for himself in various countries from Greece, Switzerland and the America's.
He combines and weaves together diverse European and African themes, motifs and elements, creating installations, works on paper, photographs and videos that form a new collection. He often uses ordinary materials like strings, watercolors, found items, tape, thread reels and threads. It is precisely that these threads tell stories and history. They connect different objects, thoughts, associations; with his threads Langa weaves a visual net of political experiences and personal memories – between Apartheid and exile. Everything is connected to everything else, there are no linear developments; the lines stray and meet at various intersections. Moshekwa Langa's works therefore stand for the experiences people make in a globalised world, for the difficulties and also the fascination that comes with moving through this world in which everything is interconnected.
His current exhibition is entitled "The Jealous Lover". The gallery of the Institute for Foreign Relations is in the centre of Berlin and can be reached by foot from the Hackesche Höfe, the Museum Island and Alexanderplatz.
News from Berlin- Berlin Global