Slovenian Artist in Residence Visits the Slovenian Embassy in Berlin
Musician Vasko Atanasovski, This Month's Slovenian Artist in Residence, in the German Capital
August 11th, 2015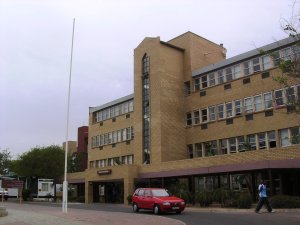 Vasko Atanasovski, the celebrated Slovenian musician and the Berlin Artist in Residence for August, paid visit to the Slovenian Embassy in Germany on August 11th. He became the Artist in Residence as part of the annual announcement by the Ministry of Culture of the Republic of Slovenia, and is currently living for a month in a cultural flat in the German capital.
As part of the "Artists in Residence" program, Slovene artists are given the opportunity to spend a month in the artists' residence in Berlin. Evert year the call for applications is announced by the Ministry of Culture of the Republic of Slovenia. The National Program for Culture (2014 – 2017), adopted in 2013 by the Slovenian National Assembly, as recommended by the Government, contains development goals across many different areas, such as creative industries, architecture, cultural tourism and many more. More precisely, the program aims to establish culture as an essential factor for contemporary development of society. Cultural policy has become an important element of the Slovenian Government's policies.
Indeed, according to the official ministerial press release, the program's agenda for 2014-2017 is focused on three levels: 1. individual cultural areas, where adequate measures responding to key challenges in the area are defined; 2. areas with a spill-over effect, which enrich and add value to individual areas; 3. distinct structural areas, specifically focused on reforming the labor market, with regards to the cultural industry. The program has been warmly welcomed and proudly promoted by the Slovenian Embassy in Berlin. As stated in the embassy's press release from Tuesday, August 11th, the musician Vasko Atanasovski paid a visit to the Slovenian Embassy in Berlin.
Vasko Atanasovski, a popular Slovenian saxophonist and flautist, is one of the most creative Slovenian composers and musicians. He is well known for his collaborations with world famous jazz, rock, classical, traditional musicians, and his remarkable technique. His portfolio consists of 11 albums, while his music has been highly acclaimed over the years, both in his home country and around the world. He is a regular guest on the European festival and concert circuit, and has also performed in India, China and New York.
References and Links
News from Berlin
Andreea Botoş, Berlin Global