Raktitvam Concert at Indian Embassy
On 21st November the Indian Embassy in Berlin organized an evening of sublime classical vocal music for Berlin's Indian community
November 25th, 2016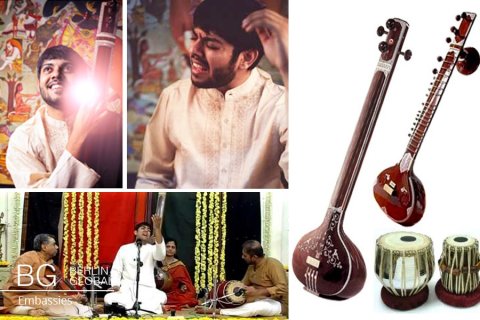 The Raktitvan concert at the Indian Embassy was a representation of the South Indian Classical style of music, Carnatic music. This style is considered to be one of the most artistic and beautiful musical forms in the world.
Carnatic music has its origins in South Indian Classical Music. The sounds introduce listeners to a new experience, based on complex oscillations and measured tonal modulation. Ragas represents the central point of the Carnatic music, characterized by melodic phrases and a combination of cyclical rhythmic patterns played on tablas. The composition of tablas and ragas played together offers the best representation of Carnatic Music. Creative impulses are triggered from the deep understanding of these components, which then inspires the musician to explore and improvise endlessly, having a framework of aesthetic term. This kind of music is usually simplified at the level of scientific formulas and numbers, being in the same time abstract, complex and highly conceptual.
The main singer, Rithvik Raja, is an incredibly well-known artist in Southern India. He is known to be a very versatile and accomplished musician, promoting the South Indian Classical Music tradition. With experience totalling 25 years, he has risen steadily and over the last decade supported his career by hard work, dedication and introspection. As a result of his efforts he is one of the most successful artists today.
Raja's music is fresh, vibrant and spontaneous having a natural sound. He is considered by critics to be an aesthetically conscious artist who gives priority to subtle nuances and wholehearted emotion, his renditions are punctuated with abundant creativity. Raja is an artist who takes pride in safeguarding the integrity of classicism and its traditional values. Rithvik presented an evening of sublime and pristine carnatic music, filled with intensity and charged with emotion.
During the concert, Raja was accompanied by the violin and the mirdangam (South Indian melodic and rhythmic support to the voice).
References:
News from Berlin